Bleach: Volume 59 Advanced manga review
By Leroy Douresseaux
January 16, 2014 - 17:28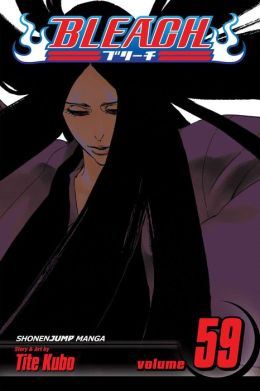 Bleach Volume 59 cover image is courtesy of barnesandnoble.com.
Rated "T" for "Teen"
Although he never asked for it, Ichigo "Strawberry" Kurosaki has the ability to see ghosts – a "gift" with which he was born. He discovers the world of the Soul Society after his family is attacked by a Hollow, a malevolent lost soul. Ichigo becomes a Soul Reaper and dedicates himself to protecting the innocent from tortured spirits and to helping those spirits find peace. Ichigo eventually defeats the dark ambitions of renegade Soul Reaper, Lord Sôsuke Aizen, and also foils an attempt to steal his own powers.
Bleach, Vol. 59 (entitled The Battle – Chapters 521 to 530) opens in the aftermath of the Soul Reapers' defeat by the Vanden Reich (Invisible Empire), a mysterious organization of Quincies. Ichigo heads to the royal palace to heal, but the road to wellness will force Ichigo to know himself. Who he is involves learning the secrets of his family's past.
Also, Kenpachi Zaraki faces Yachiru Unohana. One restrains power in order to extend a battle. The other heals in order to extend the battle. They are each other's greatest opponent, but only one can win this battle to the death.
THE LOWDOWN: Because it is one of the most visually striking manga, the Bleach manga has a style and tone that quickly becomes familiar to readers. That is why Bleach can seem repetitive; for Tite Kubo, it's sort of a curse. Being graphically distinctive can cause readers, after a long period of time, to think, "I've seen this before."
To flip through Bleach Volume 59 is to see the familiar. To read Vol. 59 is to discover surprising, even shocking, reveals, and a world of new possibilities. I think Kubo is going to take us somewhere new with Ichigo, and also, "The Battle," offers insight into something that some may not realize about this series. Bleach has its own, always-evolving philosophy about combat and struggle. This is, without a doubt, one of the great battle manga and one of the best comics being published.
POSSIBLE AUDIENCE: Readers looking for the exceptional battle manga will want the Shonen Jump star title, Bleach.
Rating: A- /10
Last Updated: August 31, 2023 - 08:12