Bleach: Volume 67 manga review
By Leroy Douresseaux
July 5, 2016 - 12:09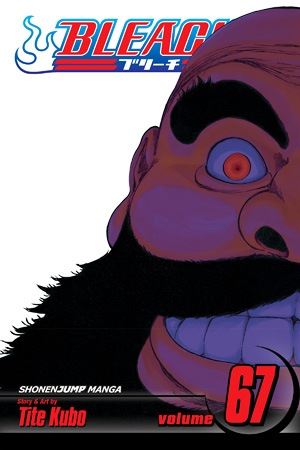 Bleach Volume 67 cover image
Rated "T" for "Teen"
Ichigo "Strawberry" Kurosaki
was born with a gift – the ability to see ghosts. This gift, which he did not want, did introduce Ichigo to the world of the
Soul Society
. After his family was attacked by a Hollow, a malevolent lost soul, Ichigo became a
Soul Reaper
. He dedicated himself to protecting the innocent from tortured spirits and to helping those spirits find peace.
As
Bleach

, Vol. 67
(entitled
Black
– Chapters 602 to 611) opens, Yhwach and his
Quincy
army (the
Stern Ritters
) continue their invasion of the Soul Society. Now, Yhwach leads his strongest Quincies to reveal their true powers. The Soul Reapers of
Squad Zero
fall before their adversaries. However, squad leader,
Ichibe Hyosube
, reveals powers that put even Yhwach to the test.
THE LOWDOWN:
The
Bleach
manga can seem repetitive, visually and graphically. I always say that, but I want to enjoy this classic shonen battle manga. What is repetitive can be rhythmical, and the rhythm is gonna get you. Besides, there are reportedly only seven volumes of
Bleach
left.
Bleach Volume 67
offers an epic battle between Yhwach and Ichibe Hyosube. It is visually stunning and graphically sensational with its supernatural play of black and white space. Of course, I'll miss the same-old of
Bleach
because even the best superhero comic books cannot do fight comics like
Bleach
creator
Tite Kubo
.
POSSIBLE AUDIENCE:
Readers looking for exceptional battle manga will want the Shonen Jump star title,
Bleach
.
A
Rating: A /10
Last Updated: January 24, 2022 - 11:00