Bleach: Volume 58 manga review
By Leroy Douresseaux
October 2, 2013 - 16:34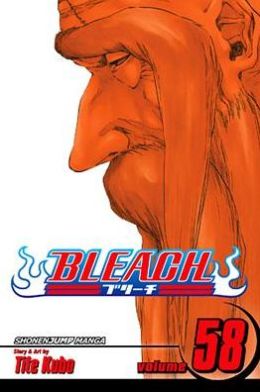 Bleach: Volume 58 cover image is courtesy of barnesandnoble.com.
Rated "T" for "Teen"
Ichigo "Strawberry" Kurosaki was born with the ability to see ghosts. He discovers the world of the Soul Society after his family is attacked by a Hollow, a malevolent lost soul. Ichigo becomes a Soul Reaper and dedicates himself to protecting the innocent from tortured spirits and to helping those spirits find peace. Ichigo eventually defeats the dark ambitions of renegade Soul Reaper, Lord Sôsuke Aizen.
As Bleach, Vol. 58 (entitled The Fire – Chapters 510 to 520) opens, the Quincies' full-scale invasion of the Soul Society comes to a shocking end. These Quincies are the Vanden Reich (Invisible Empire), and their invasion has largely been a success.
General Shigekuni Yamamoto, the boss of the Soul Society, battles Vanden Reich leader, Yhwach, in a personal conflict that goes back thousands of years. General Yamamoto seems to have won, but is the battle over? Plus, Ichigo meets Squad Zero and then, goes on a journey to Reiokyu.
THE LOWDOWN: Often there is a volume of the Bleach manga that not only changes the series' usual martial tone, but also goes off in an unusual direction. Bleach Volume 58 contains chapters that blend triumph and tragedy with comedy and discovery. Half of this volume is about the chaos and blood spilled after a battle. Then, the rest of the manga just goes off to a strange place, and then, it's down the rabbit hole.
I can honestly say that Vol. 58 proves that Bleach is a battle manga that battles battle manga stereotypes. I can also honestly say that this is not one of my favorite volumes, and it may be too odd to be a starting place for new readers.
POSSIBLE AUDIENCE: Readers looking for the exceptional battle manga will want the Shonen Jump star title, Bleach.
Rating: B+ /10
Last Updated: August 31, 2023 - 08:12