Bleach: Volume 55 manga review
By Leroy Douresseaux
February 4, 2013 - 16:21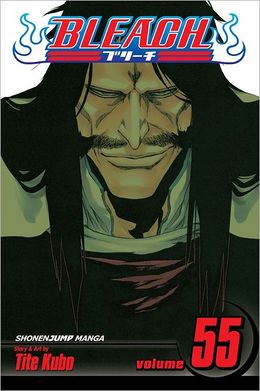 Bleach Volume 55 cover image is courtesy of barnesandnoble.com.
Rated "T" for "Teen"
Ichigo "Strawberry" Kurosaki has the ability to see ghosts. He meets Rukia Kuchiki, who introduces him to the world of the Soul Society. Ichigo becomes a Soul Reaper, dedicated to protecting the innocent from tortured spirits and also to helping those spirits find peace. Ichigo eventually defeats renegade Soul Reaper, Lord Sôsuke Aizen.
Bleach, Vol. 55 (entitled The Blood Warfare – Chapters 480 to 489) opens in the peace that comes after the struggle with the Fullbringers. That peace is shattered, however, when residents of the Soul Society start disappearing. Enter the Vanden Reich (Invisible Empire) and their mysterious master.
Meanwhile, Ichigo finds a dark shadow extending towards him in the form of an attacker calling himself Asguiaro Ebern. He claims not to be an Arrancar, although he wears the mask of a Hollow. When he learns that Heuco Mundo, the home of the Arrancars, has been attack, Ichigo returns to the place where he almost died in battle.
THE LOWDOWN: The fifty-fifth volume of the Bleach manga begins the final chapter of the Thousand-Year Blood War Arc. Like a lot of the stories in this series, shadows from the Soul Society's past extend into the present. Of course, Bleach Volume 55 is more of the same, but creator Tite Kubo is giving us what this series does best. We're getting some dark intrigue and more mysterious characters with our sword-swinging.
POSSIBLE AUDIENCE: Readers looking for the exceptional battle manga will want the Shonen Jump title, Bleach.
Rating: A /10
Last Updated: February 5, 2023 - 09:06