Yu-Gi-Oh! R: Volume 1
By Leroy Douresseaux
September 22, 2009 - 18:29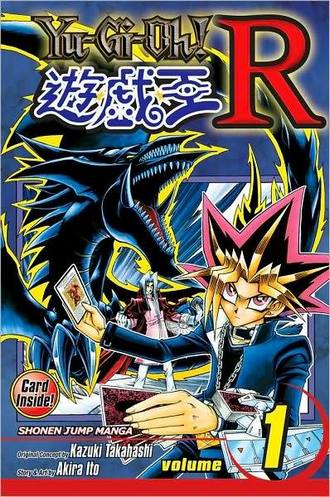 Yu-Gi-Oh! R: Volume 1 cover image is courtesy of barnesandnoble.com.
Rated "T" for "Teen"
When 10th grader Yugi Mutou solved the ancient Egyptian Millennium Puzzle, the spirit of Yu-Gi-Oh, the Kings of Games, entered his body. Together they fight in "Duel Monsters," the most popular collectible card game in the world. It has been a while since Yugi defeated Maximillion Pegasus, the super-rich designer of Duel Monsters, a loss which led to a horrible fate for Pegasus.
In Yu-Gi-Oh! R, Vol. 1, Pegasus' protégé, Yako Tenma, plots revenge against Yugi, and kidnaps Yugi's friend, Anzu Mazaki, taking her to the heart of the KaibaCorp Building. There, Anzu will be a sacrifice to Yako's Project. R.A. Yugi, Hiroto Honda, and Katsuya Jonouchi must penetrate the building and face 13 "card professors," the world's most dangerous gamers, before Yugi can face Yako to save Anzu.
[This volume includes a Yu-Gi-Oh! trading card and a glossary of the cards that appear in each chapter of this volume.]
THE LOWDOWN: I've read very little Yu-Gi-Oh!, but I've found it to be enjoyable kid stuff – the personification of shonen manga – comics for teen boys. Yu-Gi-Oh! R is the sequel to Yu-Gi-Oh!: Duelist and the prequel to Yu-Gi-Oh!: Millennium World! I'm a sucker for the weird and imaginative monsters that materialize from the playing/dueling cards, so seeing new monsters is a draw.
Akira Ito, who assisted Yu-Gi-Oh! creator Kazuki Takahashi, is now the lead creator for Yu-Gi-Oh! R, providing the story and art, both of which he's good at in this instance. Obviously, I didn't expect it to be crap, but I am still surprised at how well done this is. As a non-Yu-Gi-Oh! fan, I still found myself drawn into the cliffhanger, so I imagine that much of the intended audience for this will welcome it with open arms.
POSSIBLE AUDIENCE: Anyone who has been reading the other Yu-Gi-Oh! manga series will want Yu-Gi-Oh! R.
B+

Last Updated: August 31, 2023 - 08:12