VIZ Media Announcs "Yu-Gi-Oh! Arc-V" Manga
By The Editor
March 12, 2017 - 15:38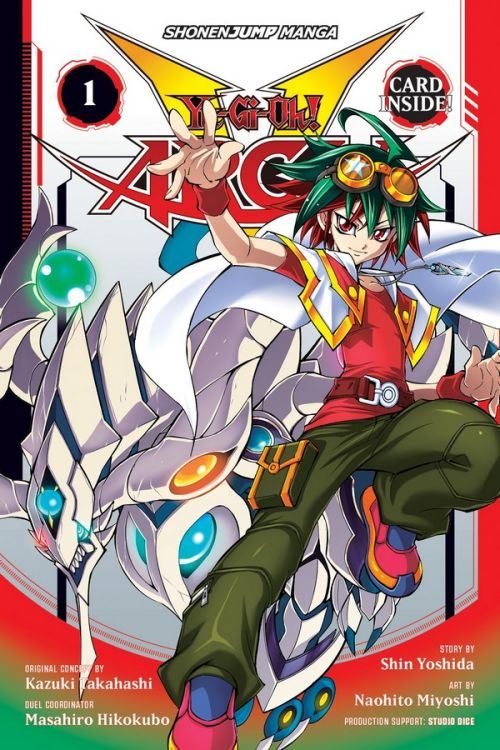 Yu-Gi-Oh Arc-V Volume 1 cover image
VIZ MEDIA LAUNCHES NEW YU-GI-OH! ARC-V MANGA SERIES
Latest Manga Series Of The Action Adventure Card Dueling Franchise Launches This Spring
VIZ Media, LLC (VIZ Media), a premier company in the fields of publishing, animation distribution, and global entertainment licensing, notably expands the world of YU-GI-OH! with the launch of YU-GI-OH! ARC-V on April 4th.
YU-GI-OH! ARC-V features story by Shin Yoshida and artwork by Naohito Miyoshi. First printings of the latest incarnation of the iconic series will include an ultra-rare trading card that will be highly prized by collectors and game players. The series is rated 'T' for Teens and will be published under the Shonen Jump imprint with a print MSRP of $9.99 U.S. / $12.99 CAN. YU-GI-OH! ARC-V also launches digitally via VIZ.com and the VIZ Manga App, as well as in the Nook, Kobo, Kindle, iBooks, comiXology, and Google Play stores. Subsequent volumes of the ongoing series will be published in English bi-annually.
In YU-GI-OH! ARC-V, action duels have become a global sensation, but what is the dark secret behind them that threatens to destroy the world? In the opening volume, Yuzu Hiiragi and her father run a Dueling school that's seen better days. If only they had a star teacher to bring in new students! When a rogue Duelist known as Phantom appears in the city, Yuzu may have found a savior, but Phantom will have to deal with the Leo Corporation's special forces before he can get into any community service!
"Dueling takes center stage in this new adventure with a fresh cast of characters and non-stop action," says Michael Montesa, Editor. "YU-GI-OH! fans and manga readers won't want to miss out on the latest tales from the dark and dangerous world of dueling."
Original YU-GI-OH! series creator, Kazuki Takahashi, first attempted to break into the manga business in 1982, but success eluded him until YU-GI-OH! debuted in the Japanese Weekly Shonen Jump magazine in 1996. YU-GI-OH!'s themes of friendship and competition, together with Takahashi's weird and wonderful art, soon became enormously successful, spawning a real-world card game, video games, and six anime series (two Japanese Yu-Gi-Oh! series, YU-GI-OH! GX, YU-GI-OH! 5D's, YU-GI-OH! ZEXAL, and YU-GI-OH! ARC-V). VIZ Media is the official North American publisher of a variety of YU-GI-OH! manga series including YU-GI-OH!, YU-GI-OH! GX, YU-GI-OH! 5D's, and YU-GI-OH! ZEXAL.
YU-GI-OH! is a $2-billion-dollar global entertainment franchise and is the leading trading card game in the world. The popular property has spawned a wide array of top rated TV anime series as well as trading cards, action figures, video games, magazines, apparel and other consumer products. In North America, the Yu-Gi-Oh! anime series is widely seen on Nicktoons and over 7.2 million Yu-Gi-Oh! video games have been sold in the U.S. to-date.
For more information on YU-GI-OH! and other manga titles available from VIZ Media, please visit VIZ.com.
Last Updated: August 31, 2023 - 08:12