VIZ Media Announces Yu-Gi-Oh! 3-In-1 Omnibus Editions
By The Editor
January 14, 2015 - 23:30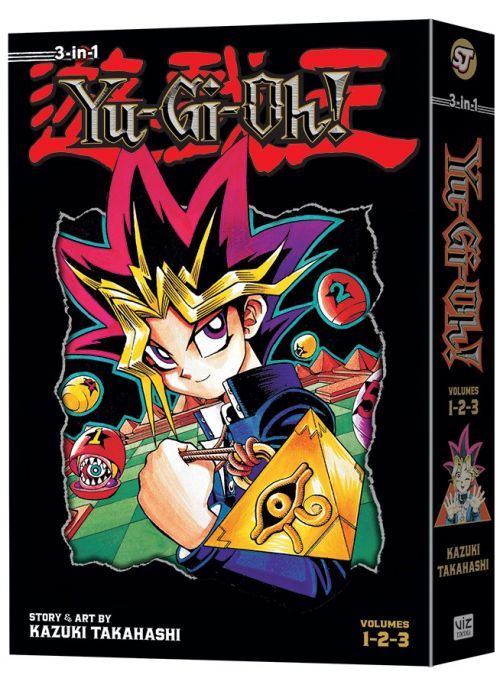 Yu-Gi-Oh Omnibus Volume 3 cover image 3D view
VIZ MEDIA DELIVERS A MANGA TRIPLE THREAT WITH THE LAUNCH OF YU-GI-OH! 3-IN-1 OMNIBUS SERIES
Catch 3 Complete Volumes Of Creator Kazuki Takahashi's Original Bestselling Fantasy Action Manga Series In New Omnibus Format
VIZ Media, LLC (VIZ Media), the largest distributor and licensor of manga and anime in North America, triples its dueling power as it announces the launch of Kazuki Takahashi's YU-GI-OH! manga series in a new 3-in-1 omnibus on February 3rd.
Published under the Shonen Jump imprint,
YU-GI-OH! 3-in-1
, Vol. 1 is rated 'T' for Teens and will carry an MSRP of $14.99 U.S. / $16.99 CAN. It is the latest title to join VIZ Media's extensive roster of 3-in-1 omnibus releases for some of manga's greatest series. Future YU-GI-OH! 3-in-1 editions will cover the entire 38-volume series and will be published quarterly for a total of 13 volumes.
Tenth-grader Yugi always had his head in some game – until he solved the Millennium Puzzle, an Egyptian artifact containing the spirit of a master gambler from the age of the pharaohs! Possessed by the puzzle, Yugi becomes Yu-Gi-Oh, the King of Games, and challenges evildoers to the Shadow Games...weird games with high stakes and high risks!
The games begin in the opening YU-GI-OH! omnibus volume! Meet Seto Kaiba, master of the world's most dangerous collectible card game. When Kaiba discovers that Yugi's grandfather owns the incredibly rare "Blue-Eyes White Dragon" card, he will stop at nothing to get it...even if he has to duel with Yugi's dark alter ego Yu-Gi-Oh! Then, out of the sands of Egypt, the mystic Shadi has come to test Yugi's powers, which will give Yugi his greatest challenge yet. If he loses, his best friends will die!
"This new omnibus is a great way to dive into all the action of the original YU-GI-OH! manga series for the very first time, or revisit it in a whole new way – undivided and in its entirety," says Erica Yee, Editor. "YU-GI-OH! remains the Number 1 trading card game property in the world, and the popularity of the property has also spawned several top-rated anime series, bestselling video games, and a vast array of action figures and other collectables. We look forward to even more fans discovering this tremendous manga series with the new 3-in-1 editions."
Creator Kazuki Takahashi first tried to break into the manga business in 1982, but success eluded him until YU-GI-OH! debuted in the Japanese Weekly Shonen Jump magazine in 1996. YU-GI-OH!'s themes of friendship and fighting, together with Takahashi's weird and imaginative monsters, soon became enormously successful, spawning a real-world card game, video games, and four anime series. In addition to the original YU-GI-OH! manga series, VIZ Media also publishes YU-GI-OH! 5D's, YU-GI-OH! R, YU-GI-OH! GX, and YU-GI-OH! ZEXAL.
For more information on YU-GI-OH! and other award-winning manga titles from VIZ Media, please visit www.VIZ.com.
Last Updated: August 31, 2023 - 08:12