Yu-Gi-Oh! Zexal: Volume 2 manga review
By Leroy Douresseaux
December 21, 2012 - 17:48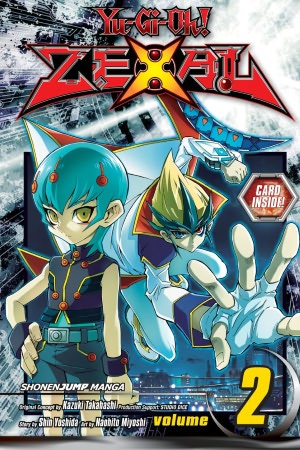 Yu-Gi-Oh Zexal Volume 2 cover image is courtesy of barnesandnoble.com.
Rated "T" for "Teen"
In the Yu-Gi-Oh! franchise, Yu-Gi-Oh! Zexal follows Yu-Gi-Oh! 5D's. It is set in futuristic Heartland City. The series focuses on Yuma Tsukumo, a hot-bloodied young fellow who wants to become Duel Champion. He is accompanied by Astral, a mysterious spirit that only Yuma can see. Together they search for Numbers, special cards that hold Astral's memories and are also highly sought after.
Yu-Gi-Oh! Zexal, Vol. 2 (The Numbers Hunter!!) welcomes the Numbers Hunters, duelists looking for the 100 Numbers cards. Welcome Kaita! In order to return his brother, Haruto, to normal, Kaita must find all 100 cards in order to appease Dr. Faker. Faker uses Haruto's powers to assault Astral World, in addition to his other plots and machinations with partner, Mr. Heartland.
Meanwhile, Yuma's pals: Kotori Mizuki, Tetsuo Takeda, Cathy, Takashi Todoraki, and Tokunosuke Hyori, form the Numbers Club to help Yuma find Numbers. Their first mission takes them to the amusement park, Heartland, where Yuma has a date with the duelist, Captain Corn.
[This volume includes a Yu-Gi-Oh! trading card.]
THE LOWDOWN: Of the few Yu-Gi-Oh! manga that I've read, this is most kid-oriented. The Yu-Gi-Oh! Zexal manga is about a kid with questionable talents who struggles to learn to get better. The manga is like that – a youngster struggling to get better. It has the elements of being a high-quality manga, but right now, it has a lot of characters and too many dangling plotlines. Perhaps things will come together over the course of the series, but right now, young Yu-Gi-Oh! readers will like it.
POSSIBLE AUDIENCE: Anyone who has been reading the other Yu-Gi-Oh! manga series may want to try the Shonen Jump, Yu-Gi-Oh! Zexal.
Rating: B- /10
Last Updated: August 31, 2023 - 08:12