Yu-Gi-Oh! 5D's: Volume 7 manga review
By Leroy Douresseaux
March 12, 2015 - 21:35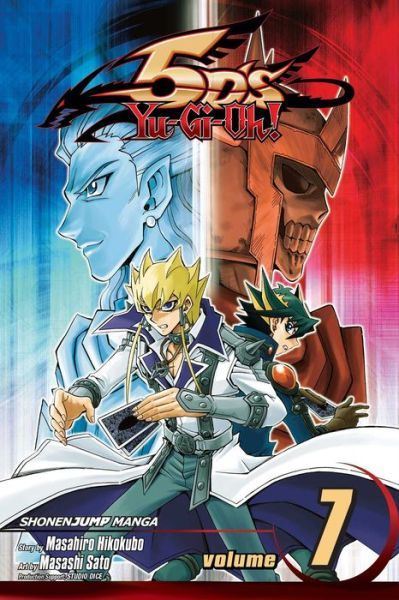 Yu-Gi-Oh 5D's Volume 7 cover image is courtesy of barnesandnoble.com.
Follow me on
Twitter
.
Rated "T" for "Teen"
In the
Yu-Gi-Oh!
media franchise,
Yu-Gi-Oh! 5D's
follows
Yu-Gi-Oh! GX
and precedes
Yu-Gi-Oh! Zexal
. Set in
New Domino City
,
Yu-Gi-Oh! 5D's
focuses on
Turbo Duel
. The city's hottest game, Turbo Duel is fought on
Duel Runners
, motorcycle-like vehicles (also called
Duel Disks
). Players battle using cards that can summon assorted fantastic creatures and beings. Yusei Fudo, the toughest duelist in
Satellite
(a district on the outskirts of New Domino City), is the newest Turbo Duel hero.
Yusei has been competing in the
D1 Grand Prix
, the battle to determine the toughest duelist in the world.
Rex Goodwin
, host of the Grand Prix, plans to use this competition to revive the Ultimate God. As
Yu-Gi-Oh! 5D's

, Vol. 7
(Destiny's Last Draw!!
; Chapters 47 to 53) opens, the epic duel between Rex and
Jack Atlas
reaches its stunning climax.
Meanwhile, Yusei duels the mysterious turbo duelist,
Skeleton Knight
. During the battle, Yusei discovers the secret of Rex and Skeleton Knight and their connection to a young duel priestess thousands of years ago. Waiting for the winner, high in the
Aerial Fortress Seibal
, is Yusei's friend,
Sect
, poisoned by darkness and dark ambitions.
[This volume includes a Yu-Gi-Oh! trading card.]
THE LOWDOWN:
As I wrote in my review of the sixth volume of the
Yu-Gi-Oh! 5D's
manga, the more I read this series, the more I like it.
Yu-Gi-Oh! 5D's Volume 7
is an improvement in the overall narrative simply because the chapters in this volume focus on the intimate connections between the characters. That is best exemplified by the flashback in Chapter 51, "Memory...!!" I hope the next graphic novel in this series also focuses on the relationships.

POSSIBLE AUDIENCE:
Anyone who has been reading the other Yu-Gi-Oh! graphic novels will want the Shonen Jump title,
Yu-Gi-Oh! 5D's
.
Rating: B+ /10
Last Updated: August 31, 2023 - 08:12