Yu-Gi-Oh! 5D's Volume 6 Advance manga review
By Leroy Douresseaux
August 29, 2014 - 09:59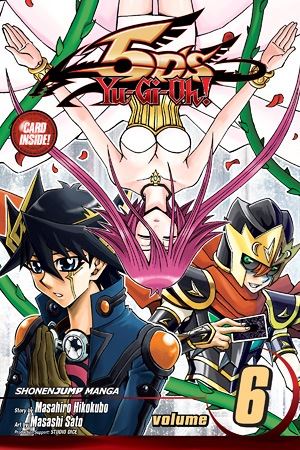 Yu-Gi-Oh! 5D's Volume 6 cover image
Follow me on
Twitter
.
Rated "T" for "Teen"
In the
Yu-Gi-Oh!
franchise,
Yu-Gi-Oh! 5D's
follows
Yu-Gi-Oh! GX
and preceeds
Yu-Gi-Oh! Zexal
. Yu-Gi-Oh! 5D's is set in
New Domino City
and focuses on
Turbo Duel
, that city's hottest game. Turbo Duel is fought on
Duel Runners
, which are motorcycle-like vehicles (also called Duel Disks). Players battle using cards that can summon assorted fantastic creatures and beings.
Yusei Fudo
, the toughest duelist in
Satellite
(a district on the outskirts of New Domino City), is the newest Turbo Duel hero.
Yusei has been competing in the
D1 Grand Prix
, the battle to determine the toughest duelist in the world.
Rex Goodwin
, host of the Grand Prix, plans use it to revive the
Ultimate God
. As
Yu-Gi-Oh! 5D's

, Vol. 6
(
The Way to the King of Sky's Lock!!
; Chapters 40 to 46) opens, Goodwin moves that plan forward, as he sets up a match between
Akiza Izinski
, the duelist known as the "Queen of Queens," and
Sect Ijuin
, Yusei's young friend who is now possessed by dark
Shadowsense
.
Akiza and Sect's duel is supposed to mirror a fateful duel that took place five thousand years ago. Now, Goodwin's elder brother,
Roman Goodwin
(also known as the
Skeleton Knight
), has come to observe this duel. Meanwhile, Yusei, and
Jack Atlas
, the turbo duelist known as "the King," try to stop the resurrection of the Ultimate God. To do so, they will have to reach
Aerial Fortress Seigal
, but there is someone standing in their way.
[This volume includes a Yu-Gi-Oh! trading card.]

THE LOWDOWN:
The more I read of the
Yu-Gi-Oh! 5D's
manga, the more I like. I've been saying this for several volumes now. I still can't figure out the rules of the Turbo Duels, and I wonder if there are really rules to the drawing and withdrawing the cards in the duel decks.
Yu-Gi-Oh! 5D's Volume 6
even informs me that there are different types of card decks, in relation to what monsters/creatures a particular player likes to use.
Well, I like it. I guess I'm not supposed to think about the story too much. The duel is the thing. I just have to take what the characters say as the triple-truth.
POSSIBLE AUDIENCE:
Anyone who has been reading the other Yu-Gi-Oh! manga series will want the Shonen Jump title,
Yu-Gi-Oh! 5D's
.
Rating: B /10
Last Updated: August 31, 2023 - 08:12