Yu-Gi-Oh! Zexal: Volume 3 manga review
By Leroy Douresseaux
May 29, 2013 - 12:09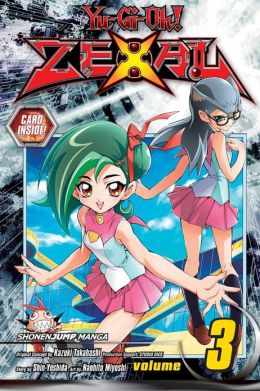 Yu-Gi-Oh Volume 3 cover image is courtesy of barnesandnoble.com.
Rated "T" for "Teen"
Yu-Gi-Oh! Zexal takes place after Yu-Gi-Oh! 5D's, in the overall Yu-Gi-Oh! franchise. Zexal is set in futuristic Heartland City and focuses on Yuma Tsukumo, a hot-bloodied young fellow who wants to become Duel Champion. Yuma is accompanied by Astral, a mysterious spirit that only Yuma can see. Together, they search for Numbers, special cards that hold Astral's memories and are also highly sought after.
Yu-Gi-Oh! Zexal, Vol. 3 (The Second Assassin!!, Chapters 13 to 18) opens in the aftermath of Yuma's defeat of Captain Corn, which earned him another Numbers card. Now, Yuma faces the wrath of Dr. Faker, who collects Numbers in a plot to destroy the Astral World, Astral's home.
Now, he transports Yuma, Astral, and the Numbers Club to a hidden race circuit in Heartland City. There, Yuma must duel Thunder Spark, Speed Field Ride Mascot, and it seems as if it will be impossible for Yuma to defeat Thunder Spark. Next up is the angry doll, Cologne.
[This volume includes a Yu-Gi-Oh! trading card.]
THE LOWDOWN: The Yu-Gi-Oh! Zexal manga is the most kid-oriented Yu-Gi-Oh! manga I've read. Considering that Yu-Gi-Oh! is a series aimed at teens and preteens, that may not be much of a distinction.
What made Yu-Gi-Oh! Zexal Volume 3 stand out to me was the long, drawn-out battle between Yuma and Thunder Spark, specifically because the conflict features the real threat that Yuma might lose. I must admit that, in general, I've found the creators of Yu-Gi-Oh! manga to be quite good at convincing me that every duel might be the end of the hero. An added bonus of weirdness is the angry doll story, so Vol. 3, for me at least, seems like something different (well, a little different) in Yu-Gi-Oh!
POSSIBLE AUDIENCE: Anyone who has been reading the other Yu-Gi-Oh! manga series may want to try the Shonen Jump title, Yu-Gi-Oh! Zexal.
Rating: B /10
Last Updated: August 31, 2023 - 08:12