Yu-Gi-Oh!: GX Volume 8
By Leroy Douresseaux
January 4, 2012 - 13:16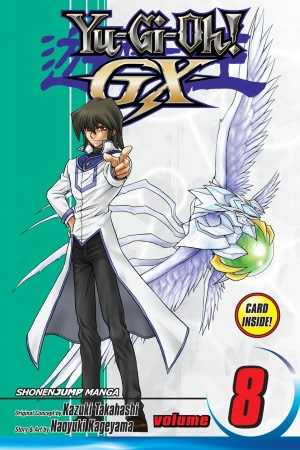 Yu-Gi-Oh! GX Volume 8 cover image is courtesy of barnesandnoble.com.
Rated "T" for "Teen"
When 10th grader Yugi Mutou solved the ancient Egyptian Millennium Puzzle, the spirit of Yu-Gi-Oh, the Kings of Games, entered his body. Together they fight in "Duel Monsters," the most popular collectible card game in the world. Yu-Gi-Oh! GX is set 10 years after the original Yu-Gi-Oh! and is also the sequel to Yu-Gi-Oh! Duel Monsters.
Years after Yugi Mutou's legendary battles, the game of Yu-Gi-Oh is so popular that special institutions dedicated to the art of the Duel have been opened around the world. Duel Academy is one of those institutions; set on Duel Academy Island, this school is where the next generation of duelist trains. Yu-Gi-Oh! GX focuses on Jaden Yuki, a boy who attends Duel Academy.
As Yu-Gi-Oh! GX, Vol. 8 (entitled Masked Hero vs. Vision Hero!!) opens, the "Exchange Battle" between Duel Academy students and several representatives from American Duel Academy continues. Jaden takes on Aster Phoenix, a powerful American student who is also already a pro duelist. Meanwhile, the menacing Mr. Mackenzie and his ominous dark aura watch in the background. And American duelist Adrian Gecko fights for more than just victory.
THE LOWDOWN: I am not a Yu-Gi-Oh! fan, and I cringe whenever VIZ Media's press representative sends me a volume of a Yu-Gi-Oh! manga for review. First, most of the Yu-Gi-Oh! are based on anime, and I'm not a fan of anime-to-manga. Secondly, it usually takes me a few chapters to grasp the characters and conflicts of a Yu-Gi-Oh! series that I'm reading for the first time. However, I'm sometimes pleasantly surprised and end up enjoying a volume, making my cringes unjustified.
It didn't take me long to grasp Yu-Gi-Oh! GX. It's pretty simple: students engage in duels, while evil guy hovers in the background. Naoyuki Kageyama, who produces the story and art for this series, does a good job in creating a simple straightforward story with duels that manage to be understandable even with all the card-tossing. Besides, if nothing else, I at least have a good graphic novel to give to my nephew.
[This volume includes a free "Barbaroid, the Ultimate Battle Machine" card and an index featuring every card played in this volume.]
POSSIBLE AUDIENCE: Anyone who has been reading the other Yu-Gi-Oh! manga series will want Yu-Gi-Oh! GX.
B
Last Updated: February 5, 2023 - 09:06