ULTRAMAN: Volume 4 manga review
By Leroy Douresseaux
May 24, 2016 - 20:26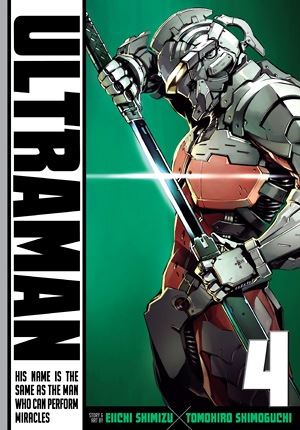 Ultraman Volume 4 cover image
Rated "T" for "Teen"
Ultraman
is a character that appeared in Japanese sci-fi/fantasy films and television, beginning in the 1960s. Ultraman was an alien entity that merged with a human host, creating a superhero that fought aliens trying to invade Earth.
Ultraman
(stylized as ULTRAMAN) the manga, written and drawn by
Eiichi Shimizu
and
Tomohiro Shimoguchi
, is a sequel to the television series, "Ultraman" (1966).
The new Ultraman is 17-year-old
Shinjiro Hayata
. He is the son of
Shin Hayata
, the man who first merged with Ultraman 20 years earlier. A new threat is growing, and that kind of danger requires a new kind of Ultraman.
As
Ultraman

, Vol. 4
(Chapter 21 to 26) opens, Shinjiro struggles with what it means to be Ultraman. The alien enemies of Earth are brutal and unforgiving, and
Dan Moroboshi
, who wears an updated Ultraman suit, does not hesitate to kill them. Shinjiro is struggling to come to terms with Dan's use of violence, especially after a battle leaves Dan's suit covered in blood.
Is Shinjiro or Dan the new kind of Ultraman for the danger the Earth now faces? Well, there is a secret plan to force Shinjiro to take the next step in his development as the Ultraman. Plus,
The Rena Sayama 2018 Live Tour
begins, but someone plans to kill Rena, an Ultraman fangirl.
THE LOWDOWN:
The
Ultraman
manga is an easy and enjoyable read, something that I can say about every volume. And yes, it is such an easy read that I find myself finishing too quickly and wishing that there were more. I really enjoy this manga, and I think its fan base should grow. Ultraman is something like a blend of Marvel's
Iron Man
and
Neon Genesis Evangelion
, a blend I think that others can enjoy.
Ultraman Volume 4
focuses on the existential crisis Shinjiro undergoes as he deals with the realities of being the hero everyone expects to protect the Earth. Killing and destroying the enemy seems the obvious solution, except that it may not be. Creators Shimizu and Shimoguchi are gradually delving into complex issues, even as they continue to produce a delightfully breezy read.
POSSIBLE AUDIENCE:
Fans of Ultraman and readers looking for superheroes from another land will want to try the VIZ Signature title,
Ultraman
.
A
Rating: A /10
Last Updated: September 6, 2021 - 08:15