Ultraman: Volume 1 manga review

By Leroy Douresseaux
August 9, 2015 - 08:49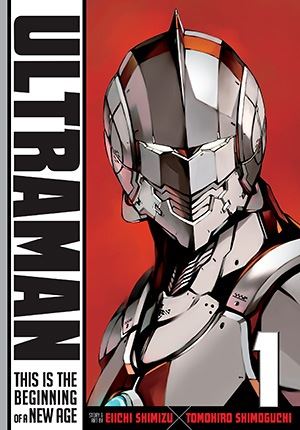 Ultraman Volume 1 cover image
Rated "T" for "Teen"
Ultraman is a character that appeared in Japanese sci-fi/fantasy films and television, beginning in the 1960s. Ultraman was an alien entity that merged with a human host to create a superhero that fought aliens trying to invade Earth.
Ultraman
(stylized as ULTRAMAN) is a manga written and drawn by
Eiichi Shimizu and Tomohiro Shimoguchi
that is a sequel to the television series, "Ultraman" (1966). The manga (Japanese comics) began its serialization in Monthly Hero's in 2011. VIZ Media will publish the manga in English as a graphic novel series, beginning August 2015.
Ultraman

, Vol. 1
(Chapter 1 to 6) opens 20 years after
Ultraman
("
Giant of Light
") left Earth after defeating the last of the alien invaders.
Defense Minister Shinjiro Hayata
and his young son,
Shin Hayata
, are visiting "
The Giant of Light Memorial Museum
." The elder Hayata does not remember that he had merged with Ultraman even after something shocking happens to his son at the museum.
Twelve years after that fateful museum visit, young Shin is trying to be a normal school boy, trying to get the girls at his school to notice him. His life, however, is about to change, and the truth is going to come out. What is the "
Ultra Factor
," and who possesses it?
THE LOWDOWN:
Many years ago, on a comic book creator's message board, I posted that I wondered if there were Japanese superheros that were similar to American superheroes , such as Superman and Spider-Man. Another board member said there was such a Japanese superhero – Ultraman. I wasn't buying it, as what little of Ultraman that I had seen just did not look like something from DC Comics or Marvel Comics or even like superheroes from independent comic book publishers.
Years later, VIZ Media recently sent me the opening volume of the new Ultraman manga. I don't know how close the new is to the original, as I have not experienced original Ultraman. I can say that Ultraman Volume 1 makes me believe that Ultraman is like an American superhero. I could not help but think of Iron Man, although neither Shinjiro nor Shin Hayata is like Tony Stark. This manga does remind me, a little, of Neon Genesis Evangelion.
This first volume is quite an enjoyable read. The graphical storytelling moves like a superhero comic book. If I did not know that Ultraman was created in Japan, I would not at all think of it as manga. That is not a criticism; I simply think that this Ultraman could work as an American comic book. I look forward to future volumes because
Ultraman
has the potential to be quite good.
POSSIBLE AUDIENCE:
Fans of Ultraman and readers looking for superheroes from another land will want to try
Ultraman
.
Last Updated: September 6, 2021 - 08:15