ULTRAMAN: Volume 6 manga review
By Leroy Douresseaux
November 14, 2016 - 20:42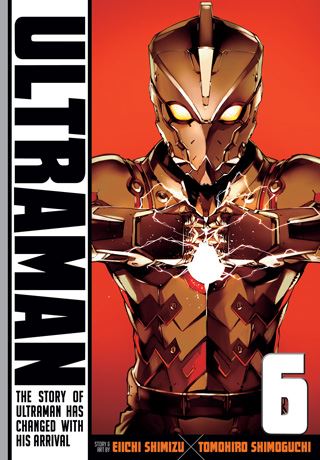 Ultraman Volume 6 cover image
Rated "T" for "Teen"
He is
Ultraman
. The character originally appeared in Japanese sci-fi/fantasy films and television, beginning in the 1960s. The character was an alien entity that merged with a human host, creating a superhero that fought aliens trying to invade Earth.
Ultraman
(stylized as ULTRAMAN) the manga, written and drawn by
Eiichi Shimizu
and
Tomohiro Shimoguchi
, is a sequel to the television series, "Ultraman" (1966).
The new Ultraman is 17-year-old
Shinjiro Hayata
. He is the son of
Shin Hayata
, the man who first merged with Ultraman 20 years earlier. A new threat is growing, and that kind of danger requires a new kind of Ultraman.
Ultraman

, Vol. 6
(Chapter 35 to 41) opens with a mystery. Who is wearing an unsanctioned and unidentified Ultraman suit? It is none other than
Seiji Hokuto
, Shinjiro's classmate who also knows that Shin is Ultraman. Meanwhile, the machinations of shadowy enemies, both of "Earthian" and alien origins, continues to grow.
[This volume includes the bonus chapter, "Truth."]
THE LOWDOWN:
The
Ultraman
manga is one of my favorite manga. This breezy read reminds me of
Iron Man
, but is strong in the tradition of Japanese science fiction and anime storytelling. That is why I think that it will appeal to a broad range of readers
Ultraman Volume 6
follows the pivotal fifth volume by emphasizing its conspiratorial subplots. That is good for longtime readers, but I think the big fun comes in the conflict between the various parties that are each in control of an Ultraman suit. Don't think of this as a media tie-in. Think of Ultraman as the shonen sci-fi manga fun that it is.
I READS YOU RECOMMENDS:
Fans of Ultraman and readers looking for superheroes from another land will want to try the VIZ Signature title,
Ultraman
.
A
Rating: A /10
Last Updated: September 6, 2021 - 08:15