ULTRAMAN: Volume 8 manga review
By Leroy Douresseaux
May 12, 2017 - 09:03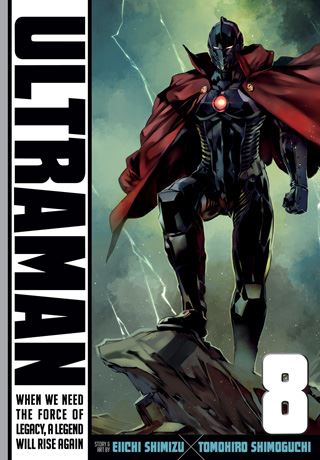 Ultraman Volume 8 cover image
Rated "T" for "Teen"
Iconic superhero
Ultraman
originally appeared in Japanese sci-fi/fantasy films and television, beginning in the 1960s. The character was an alien entity that merged with a human host, creating a superhero that fought aliens trying to invade Earth.
Ultraman
(stylized as ULTRAMAN) the manga, written and drawn by
Eiichi Shimizu
and
Tomohiro Shimoguchi
, is a sequel to the television series, "Ultraman" (1966).
The new Ultraman is 17-year-old
Shinjiro Hayata
. He is the son of
Shin Hayata
, the man who first merged with Ultraman 20 years earlier. In the shadows, a new threat is growing, and that kind of danger requires a new kind of Ultraman.
As
Ultraman

, Vol. 8
(Chapter 48 to 53) opens,
Seiji Hokuto
, wearer of a new Ultraman suit, battles the
Ace Killer Squad
as more join the fight. In the end, however, the victor will be the true Ultraman, but will Shinjiro break the rules to become what he is meant to be? Three months later,
Kotaro
is a Japanese photographer in New York City trying to make it big. He stumbles onto an alien conspiracy that might cost him his life.
[The volume includes the bonus manga, "Road to Becoming a Giant of Light" Part 7 "Could Not Become a New Yorker."]
THE LOWDOWN:
The Ultraman manga still reminds me of Marvel Comics' Iron Man, but after eight graphic novel volumes, the narrative has asserted its Japanese science fiction pedigree. It is a delightful blend of Kaiju, assorted aliens, other dimensions, conspiracies from another world, and superheroes.
Ultraman Volume 8
depicts a big step for series star, Shinjiro Hayata. The storytellers make one big leap forward in terms of Ultraman, and move a few ongoing plots forward, while introducing a new setting and a new subplot. Ultraman is fun breezy read, a science fiction superhero comic book from the land of manga that can stand with American superheroes.
I READS YOU RECOMMENDS:
Fans of Ultraman and readers looking for superheroes from another land will want to try the VIZ Signature title,
Ultraman
.
A
Rating: A /10
Last Updated: September 6, 2021 - 08:15