ULTRAMAN: Volume 7 manga review
By Leroy Douresseaux
February 26, 2017 - 20:58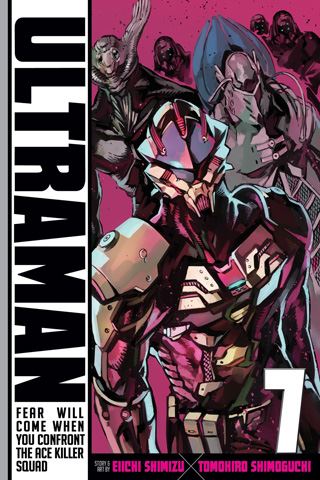 Ultraman #7 cover image
Rated "T" for "Teen"
Ultraman
originally appeared in Japanese sci-fi/fantasy films and television, beginning in the 1960s. The character was an alien entity that merged with a human host, creating a superhero that fought aliens trying to invade Earth. Ultraman (stylized as ULTRAMAN) the manga, written and drawn by
Eiichi Shimizu
and
Tomohiro Shimoguchi
, is a sequel to the television series, "Ultraman" (1966).
The new Ultraman is 17-year-old
Shinjiro Hayata
. He is the son of Shin Hayata, the man who first merged with Ultraman 20 years earlier. A new threat is growing, and that kind of danger requires a new kind of Ultraman... or maybe two Ultramen... or maybe even three...
Ultraman

, Vol. 7
(Chapter 42 to 47) opens with a mystery. Twelve years ago, a tragic airline crash alerted the
Science Special Search Party
(SSSP) to the presence of aliens on Earth. The crash, however, may not have been an accident, and may have been an assassination. Now, the only survivor,
Seiji Hokuto
, is out for answers and revenge, and he has an Ultraman suit. When the "
Ace Killers
" target him, however, Seiji will need the help of Shinjiro and the other Ultraman,
Dan Moroboshi
.
[The volume includes the bonus manga, "Road to Becoming a Giant of Light."]
THE LOWDOWN:
The
Ultraman
manga has reminded me of Marvel Comics
Iron Man
. As the series progresses, though, the narrative has asserted its Japanese science fiction pedigree. Still, there is a superhero quality to
Ultraman
that will appeal to a broad range of readers.
Ultraman Volume 7
digs into the spine of the back story, in particular that which shapes the current narrative to its core origins. The multiple Ultramen can be a little confusing but all the mystery that hangs at the back of the main story is so intriguing and makes anticipation for the next volume quite high. This volume makes going back to the beginning to get here worth it, dear readers.
I READS YOU RECOMMENDS:
Fans of Ultraman and readers looking for superheroes from another land will want to try the VIZ Signature title,
Ultraman
.
A
Rating: A /10
Last Updated: September 6, 2021 - 08:15