ULTRAMAN: Volume 5 manga review
By Leroy Douresseaux
August 22, 2016 - 12:26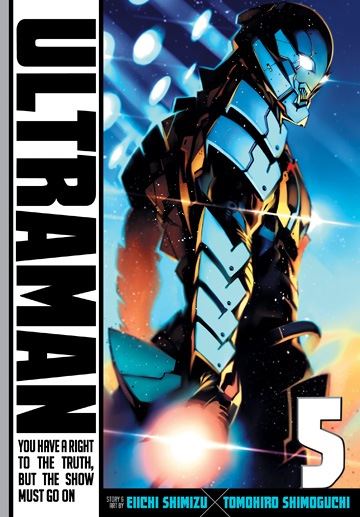 Ultraman Volume 5 cover image
Rated "T" for "Teen"
Ultraman
appeared in Japanese sci-fi/fantasy films and television, beginning in the 1960s. The character was an alien entity that merged with a human host, creating a superhero that fought aliens trying to invade Earth.
Ultraman
(stylized as ULTRAMAN) the manga, written and drawn by
Eiichi Shimizu
and
Tomohiro Shimoguchi
, is a sequel to the television series, "Ultraman" (1966).
The new Ultraman is 17-year-old
Shinjiro Hayata
. He is the son of
Shin Hayata
, the man who first merged with Ultraman 20 years earlier. A new threat is growing, and that kind of danger requires a new kind of Ultraman.
Ultraman

, Vol. 5
(Chapter 27 to 34) opens on center stage at a
Rena Sayama
concert. The alien
Ada
has the spotlight and he has just announced that he will kill Rena and her entire audience. Now, Shinjiro and
Dan Moroboshi
, the second Ultraman, have arrived to stop him. Still, more adversaries are about to make their appearances and join the fun. Plus, the secrets of a recent string of killings of aliens will be revealed.
THE LOWDOWN:
The
Ultraman
manga is easy to read. You can sail through an entire volume pretty quickly. However, that does not mean that this enjoyable read is simplistic. This
Ultraman
manga blends the best of the soap opera superhero drama of Marvel's
Iron Man
and the fantasy drama of
Neon Genesis Evangelion
. This a comics tea blend I think that different types of comics readers can enjoy.
Ultraman Volume 5
is a pivotal volume, which wraps up a crucial subplot, which in turns moves the narrative forward. I think that the best thing this volume does is not so much go deeper into a conspiracy as it presents a more complicated human/alien society than previous volumes suggested. I think the best is yet to come, and
Ultraman
will emerge as more than just a media tie-in.
POSSIBLE AUDIENCE:
Fans of Ultraman and readers looking for superheroes from another land will want to try the VIZ Signature title,
Ultraman
.
A
Rating: A /10
Last Updated: September 6, 2021 - 08:15