ULTRAMAN: Volume 3 manga review
By Leroy Douresseaux
February 17, 2016 - 19:39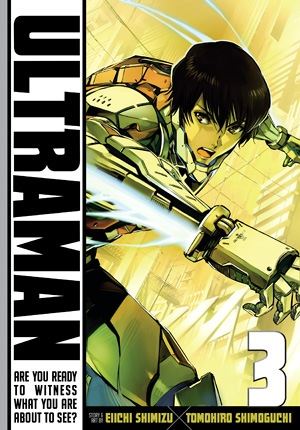 Ultraman Volume 3 cover image
Rated "T" for "Teen"
The character, Ultraman, appeared in Japanese sci-fi/fantasy films and television, beginning in the 1960s. Ultraman was an alien entity that merged with a human host, creating a superhero that fought aliens trying to invade Earth.
Ultraman
(stylized as ULTRAMAN) the manga, written and drawn by
Eiichi Shimizu
and
Tomohiro Shimoguchi
, is a sequel to the television series, "Ultraman" (1966).
The new
Ultraman
is 17-year-old
Shinjiro Hayata
. He is the son of
Shin Hayata
, the man who first merged with Ultraman 20 years earlier. A new threat is growing, and that kind of danger requires a new kind of Ultraman.
As
Ultraman

, Vol. 3
(Chapter 15 to 20) opens, the
Science Special Search Party
(SSSP) goes deeper into a sinister investigation to learn the identity of a mysterious new serial killer. The victims are human, but the killer may not be human. Meanwhile,
Dan Moroboshi
takes Shinjiro to a mysterious alien city, but the location of that city shocks Shinjiro.
THE LOWDOWN:
The
Ultraman
manga is an easy and enjoyable read. In fact, it is such an easy read that I find myself finishing too quickly and wishing that there were more. Ultraman is something like an American superhero, and I think of Iron Man with a touch of
Neon Genesis Evangelion
.
Ultraman Volume 3
continues to expand the world of this new Ultraman character. At the same time, the creative team continues to tease the ghosts of the past, which might entertain readers already familiar with earlier incarnations of the character. I'm invested in this series, and being unfamiliar with old Ultraman only makes me even more interested in getting answers. I won't act as if this is an instant classic, but the mixture of science fiction action and mystery really work for this new Ultraman.
POSSIBLE AUDIENCE:
Fans of Ultraman and readers looking for superheroes from another land will want to try the VIZ Signature title,
Ultraman
.
Last Updated: September 6, 2021 - 08:15