Rosario+Vampire: Season II Volume 8
By Leroy Douresseaux
March 30, 2012 - 13:21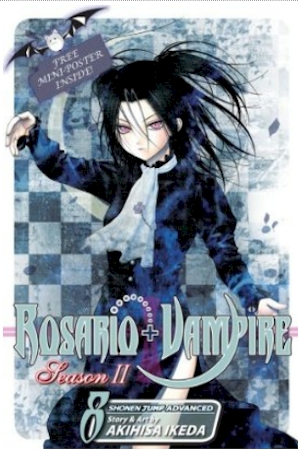 Rosario+Vampire Season II Volume 8 cover image is courtesy of Anime Castle Books.
Rated "T+" for "Older Teen"
The reason 15-year-old Tsukune Aono attends Yokai Academy, a boarding school for monsters, is because he could not get into a human school. The first friend he makes at his new school is Moka Akashiya, a teen vampire who just loves the taste of his blood. Moka can also transform into a powerful vampire (called "Inner Moka") when her Rosario is removed. Now a sophomore, Tsukune and pals think about their futures while battling the mysterious group, Fairy Tale.
Tsukune and his pals went to Hong Kong so that the great sorcerer, Tohofuhai, could fix Moka's Rosario. However, when the sorcerer touched the Rosario, a mysterious force dragged Tsukune, Mizore Shirayuki (the snow fairy), and Tohofuhai into the seemingly comatose Moka's dreams.
As Rosario+Vampire: Season II, Vol. 8 (entitled Love Bites) begins, Moka's elder sister, Aqua Shuzen, leads the Miao crime family in an assault on the Huang crime family's compound, where Tsukune and friends are taking shelter. Aqua's target is Moka. Why is that? Back in Moka's dream world the darkest secrets of the Shuzen family and the history of vampires is revealed, and that includes to enigma that is Moka's mother, Akasha, a very powerful vampire.
[This volume includes a pull-out, full-color, mini-poster featuring Aqua Shuzen.]
THE LOWDOWN: I've always thought of the Rosario+Vampire manga as sort of like The Addams Family meets the X-Men – cool, creepy folks at a secret school where they can live and learn in a place free of the prejudice against them. The Rosario+Vampire: Season II manga repeats the formula, but it is also an exciting fantasy action series and battle manga.
This eighth volume of Rosario+Vampire: Season II offers crazy supernatural family drama and some nice fights scenes, including a monster quake-o-rama that looks like something out of Wrath of the Titans. Everything is drawn in an ornate, detailed style that defines the quality of this series and keeps getting better. Best thing about Rosario+Vampire: Season II is the anticipation for the next volume.
POSSIBLE AUDIENCE: Readers looking for fight and fantasy will like Rosario+Vampire: Season II.
A-

Last Updated: January 24, 2022 - 11:00