Rosario + Vampire: Season II Volume 9 manga
By Leroy Douresseaux
July 19, 2012 - 16:51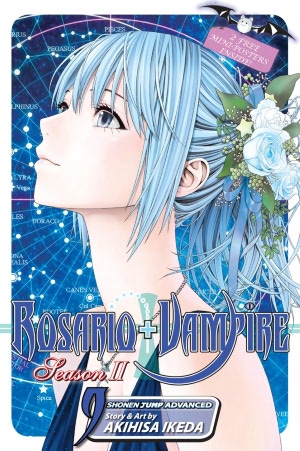 Rosario + Vampire Season II Volume 9 cover image is courtesy of barnesandnoble.com.
Rated "T+" for "Older Teen"
He could not get into any other high school, so 15-year-old Tsukune Aono enrolled in Yokai Academy. It was an accident. Tsukune did not know that this was a boarding school for monsters. The first friend he made at his new school was Moka Akashiya, a teen vampire who just loved the taste of his blood. With the help of his friends in the "News Club," Tsukune survived a first year of fighting off monster gangs. Now, Tsukune and his friends are sophomores and their battle is with the mysterious group, Fairy Tale.
Tsukune and his pals went to Hong Kong so that the great sorcerer, Tohofuhai, could fix Moka's Rosario. However, when the sorcerer touched the Rosario, a mysterious force dragged Tsukune, Mizore Shirayuki (the snow fairy), and Tohofuhai into the seemingly comatose Moka's dreams.
As Rosario+Vampire: Season II, Vol. 9 (entitled Love Bites) begins, Tsukune and Mizore make it out of Moka's dreams. They find Tohofuhai in a pitched battle with Moka's elder sister, Aqua Shuzen, who is revealed to be allied with Fairy Tale. After Aqua escapes with Moka in her custody, Tsukune becomes determined to get stronger in order to battle the powerful Aqua. Tohofuhai can help him. The process, however, will not change Tsukune, but it may also kill him.
THE LOWDOWN: As I have written many times, I see the Rosario+Vampire manga as like a blending of The Addams Family and the X-Men – cool, creepy folks at a secret school where they can live and learn in a place free of the prejudice against them. As a "Shonen Jump Advanced title, it earns the "Shonen Jump" part of the name by being a full-on battle manga.
One thing that must be said about Rosario+Vampire: Season II (which can also be said about the first series) is that it is also a playful comedy. Creator Akihisa Ikeda has his characters squabble the way young people would, and that often comes in the form of innuendo and even outright risqué humor. In fact, there is a loss-of-virginity sketch that defied my expectations of this series (and I expect the sexual innuendo).
Obviously, as an action-fantasy manga, Rosario+Vampire: Season II can be violent, even explicitly violent at times. Akihisa Ikeda is flexible and Rosario+Vampire is like a live-wire, always moving around and offering surprises.
POSSIBLE AUDIENCE: Readers looking for fight, fantasy, and sexy will like Rosario+Vampire: Season II.
Rating: A- /10
Last Updated: January 24, 2022 - 11:00