Rosario+Vampire: Season II Volume 13
By Leroy Douresseaux
November 21, 2014 - 18:25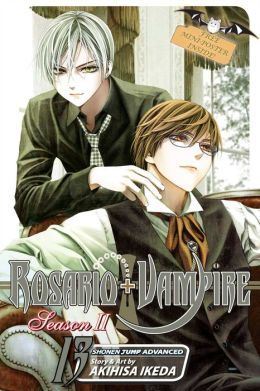 Rosario+Vampire Season II Volume 13 cover image is courtesy of barnesandnoble.com.
Follow me on
Twitter
.
Rated "T+" for "Older Teen"
Unable to gain admission into any other high school, 15-year-old
Tsukune Aono
enrolled at Yokai Academy. He did not know that it was a boarding school for monsters. The first friend he made at his new school was
Moka Akashiya
, a teen vampire who has an unquenchable thirst for his blood. With the help of his friends in the "
News Club
," Tsukune survived a first year of fighting off monster gangs. Now, Tsukune and his friends are sophomores and their battle is with the mysterious group,
Fairy Tale
.
Fairy Tale, the organization determined to destroy the world, kidnapped Moka in order to awaken the monstrous Alucard, the True Ancestor of vampires. As
Rosario+Vampire: Season II

, Vol. 13
(entitled
Alter Ego
, Chapters 60 to 65) opens, Tsukune releases the seals on his spirit lock, which prevent him from turning into a ghoul... forever. He needs the power to fight Fairy Tale's leader,
Gyokuro Shuzen
.
The News Club joins the fight, but this may be a fight only Moka can handle. Meanwhile, Fairy Tale's airborne fortress is aimed at the human world, in order for it to crash, kill millions, and start a war. Also,
Kahlua
, Moka's older sister and an assassin for Fairy Tale, joins the battle, but Moka's friends want to handle this battle. And what is the true face of
Alucard
?
THE LOWDOWN:
The
Rosario+Vampire: Season II
manga is a battle manga featuring titanic clashes between monstrous beings.
Rosario+Vampire: Season II Volume 13
looks like fellow "Shonen Jump Advanced" monster-mash manga, Claymore.
However, creator
Akihisa Ikeda
hints at returning to the monster high school comedy and teen romance that defined the first
Rosario+Vampire
series. I wonder if it can go back to its early school-based humor. Still, I have been enjoying this Fairy Tale build-a-creature throw-down, and Vol. 13's cliffhanger ending is captivating enough to make me come back for the next volume.
POSSIBLE AUDIENCE:
Readers looking for fight, fantasy, and sexy will like the Shonen Jump Advanced title,
Rosario+Vampire: Season II
.
Rating: A- /10
Last Updated: January 24, 2022 - 11:00