Rosario+Vampire: Season II Volume 11 manga review
By Leroy Douresseaux
March 5, 2013 - 17:01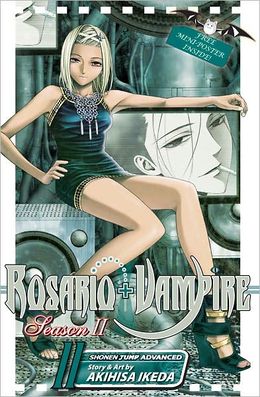 Rosario+Vampire Season II Volume 11 cover image is courtesy of barnesandnoble.com.
Rated "T+" for "Older Teen"
Why did 15-year-old Tsukune Aono enroll at Yokai Academy? Because he could not gain admission into any other high school, of course, but he did not know that it was a boarding school for monsters. The first friend he made at his new school was Moka Akashiya, a teen vampire who has an unquenchable thirst for his blood. With the help of his friends in the "News Club," Tsukune survives a first year of fighting off monster gangs. Now, Tsukune and his friends are sophomores and their battle is with the mysterious group, Fairy Tale.
As Rosario+Vampire: Season II, Vol. 11 (entitled Kidnapped, Chapters 48 to 53) opens, we see a flashback to when 6-year-old Fangfang Huang met 10-year-old Xilong Miao. The Huang and Miao families are rivals. Now, as Tsukune and friends infiltrate the multi-level flying fortress that is Fairy Tale's fortress, Fangfang and Xilong meet as combatants.
Tsukune and the young witch, Ruby Tojo, are transported to another dimension. There, they face, Kuyo the Spirit Fox, the villain that once murdered Tsukune. Meanwhile, Fairy Tale leader, Gyokuro Shuzen, continues to use Moka in order to awaken the monstrous Alucard, the True Ancestor of vampires.
THE LOWDOWN: As I wrote in my review of the previous volume of the Rosario+Vampire: Season II manga (Volume 10), the series has changed. I initially thought of it as a blending of The Addams Family and the X-Men. This was a series about cool, creepy folks at a secret school where they can live and learn in a place free of the prejudice against them.
Rosario+Vampire: Season II is solidly a battle manga, its narrative ambitions more Bleach than Monster High. Rosario+Vampire: Season II Volume 11 is simply a continuation of the action from Vol. 10. Things are not flat, however; they're building to something big, perhaps game-changing for the series.
POSSIBLE AUDIENCE: Readers looking for fight, fantasy, and sexy will like the Shonen Jump Advanced title, Rosario+Vampire: Season II.
Rating: A- /10
Last Updated: January 24, 2022 - 11:00