Rosario + Vampire: Season II: Volume 4
By Leroy Douresseaux
April 1, 2011 - 09:11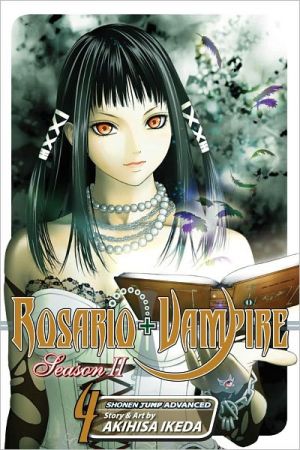 Rosario + Vampire Season II Volume 4 cover image is courtesy of barnesandnoble.com.
Rated "T+" for "Older Teen"
After he could not gain admission into any high school, 15-year-old Tsukune Aono ended up at Yokai Academy. However, Yokai is a boarding school for monsters, and the first friend Tsukune made was Moka Akashiya, a teen vampire who just loves the taste of his blood. Tsukune survived monster gangs and a gaggle of would-be girlfriends, and now, he's a sophomore.
Rosario+Vampire: Season II, Vol. 4 (entitled Love Bites) opens in the land of the snow fairies. Tsukune and the girls are there with resident snow fairy, classmate, and friend, Mizore Shirayuki. The group planned to celebrate the Flower Offering Ceremony when something went wrong.
Moka's older sister, Kalua, a vampire assassin, surprised everyone when she suddenly appeared. Now, Kalua claims that she has arrived to enforce some kind of new deal or new treaty. Her orders are to kill anyone who gets in her way, including her younger sisters, Moka and Koko Shuzen. Plus, a new adversary, a shadowy organization called Fairy Tale, reveals itself, and at least some of its members are Tsukune's enemies.
THE LOWDOWN: While reading this latest volume of Rosario+Vampire: Season II, I thought of another "Shonen Jump Advanced" title, Strawberry 100%. For all the action violence and fight comic mayhem, Rosario+Vampire is a raunchy, high school comedy, like Strawberry 100%. Creator Akihisa Ikeda doesn't skimp on the innuendo, teasing, cleavage, and panty shots just because his horny teens are monsters instead of humans. Featuring art that is drawn with supreme skill and draftsmanship, Rosario+Vampire is a high-quality and highly sexy fantasy.
POSSIBLE AUDIENCE: Readers who like shonen high school comedy and monsters will probably like Rosario+Vampire: Season II.
A-
Last Updated: January 24, 2022 - 11:00