Rosario+Vampire: Season II Volume 5
By Leroy Douresseaux
July 2, 2011 - 14:38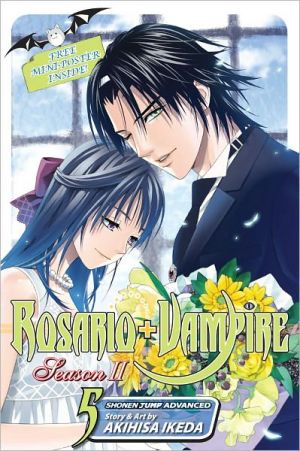 Rosario+Vampire: Season II Volume 5 cover image is courtesy of barnesandnoble.com.
Rated "T+" for "Older Teen"
Because he could not gain admission into any other high school, 15-year-old Tsukune Aono ended up at Yokai Academy, a boarding school for monsters. The first friend Tsukune made was Moka Akashiya, a teen vampire who just loves the taste of his blood. Tsukune joined the News Club (the club that produces Yokai's school newspaper). He survived monster gangs and a gaggle of would-be girlfriends, and now, he's a sophomore.
In Rosario+Vampire: Season II, Vol. 5 (entitled Siren Song), Tsukune and the rest of the News Club leave Yokai for summer vacation, but they can't leave conflict behind. Tsukune has to rescue San Otonashi, former News Club president, from yakuza, but Japanese mobsters aren't the only ones after San. Fairy Tale, the monster organization that wants to destroy the human world, insists that San join. When Tsukune and the News Club come to her aid, Fairy Tale's "God" arrives, and he is probably more than they can handle.
THE LOWDOWN: Most of Rosario+Vampire: Season II is set on the grounds of Yokai Academy, and even the storylines set off-campus are related to what happens at "Monster High." Creator Akihisa Ikeda fills the stories with innuendo, teasing, cleavage, and panty shots, but the best things about this series are the characters and their relationships. Ikeda is imaginative and creative in the way he uses and envisions various monsters and creatures of the fantastic. It is the camaraderie, however, that will keep readers coming back. Plus, it's all present with such beautiful artwork.
POSSIBLE AUDIENCE: Readers looking for a school-oriented manga with a large cast will like Rosario+Vampire: Season II.
A-
Last Updated: January 24, 2022 - 11:00