Rosario+Vampire: Season II Volume 10 manga review
By Leroy Douresseaux
November 9, 2012 - 17:52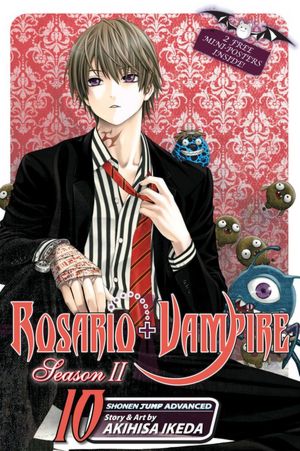 Rosario + Vampire Season II Volume 10 cover image is courtesy of barnesandnoble.com.
Rated "T+" for "Older Teen"
Because he could not gain admission into any other high school, 15-year-old Tsukune Aono enrolled in Yokai Academy. Of course, Tsukune did not know that this was a boarding school for monsters. The first friend he made at his new school was Moka Akashiya, a teen vampire who just loved the taste of his blood. With the help of his friends in the "News Club," Tsukune survived a first year of fighting off monster gangs. Now, Tsukune and his friends are sophomores and their battle is with the mysterious group, Fairy Tale.
As Rosario+Vampire: Season II, Vol. 10 (entitled Kidnapped) begins, Tsukune concludes his training with Chinese sorcerer Tohofuhai. He is now supernaturally endowed enough to take on Fairy tale and rescue Moka, whom the group kidnapped. Meanwhile, Moka, still a prisoner of her sister, Aqua, an agent of Fairy Tale, arrives at the fortress base of the group. Moka learns that Fairy Tale leader, Gyokuro Shuzen, has plans for Moka – plans that involve the monstrous Alucard.
THE LOWDOWN: While reading the tenth volume of the Rosario+Vampire manga, I thought about how much the series has changed. I always come back to how it first reminded me of a blending of The Addams Family and the X-Men – cool, creepy folks at a secret school where they can live and learn in a place free of the prejudice against them.
Now, this "Shonen Jump Advanced" title is a solid battle manga and has been for the past several volumes. It's quite good as that. The characters, heroes and villains, are imaginative and inventive. The action is engaging, but the art is drawn with a beauty that seems too good (or too pretty) for the kind of series this is. After reading the new Rosario+Vampire: Season II, I realized that I still like it. I'll be cute and say that it is a season I want to keep enjoying.
POSSIBLE AUDIENCE: Readers looking for fight, fantasy, and sexy will like the Shonen Jump Advance title, Rosario+Vampire: Season II.
Rating: A- /10
Last Updated: January 24, 2022 - 11:00