Natsume's Book of Friends: Volume 16
By Leroy Douresseaux
June 26, 2014 - 15:52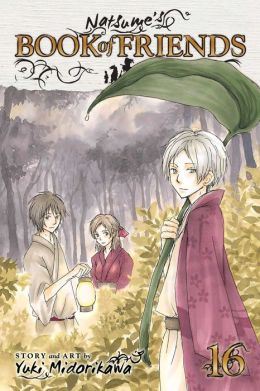 Natsume's Book of Friends Volume 16 cover image is courtesy of barnesandnoble.com.
Follow me on Twitter.
Rated "T" for "Teen"
Takashi Natsume can see the spirits and demons called "yokai." This ability has been a curse and has set him apart from others. Takashi, an orphaned teen, finds a stable home with Tôko and Shigeru Fujiwara, a kindly couple who are distant relatives. He also has a companion in Nyanko-Sensei, a guardian yokai. Takashi learns that he has inherited two things from his mysterious grandmother, Reiko Natsume: "the Sight" and her "Book of Friends," a tome in which Reiko wrote the names of yokai.
As Natsume's Book of Friends, Vol. 16 (Chapters 64 to 67) opens, Natsume discovers strange, graffiti-like writing on the blackboard in his second period classroom. While he engages that mystery, he meets his friend, Taki Tohru. Taki can see yokai when they enter one of her spell circles. She recently discovered a spell circle created by her late grandfather, and she used it to help a yokai. This yokai, however, still remains near Taki's house, and if he doesn't want revenge, Natsume wonders, what does he want?
Next, Natsume visits Kaname Tanuma, his friend who can sense when yokai are present. Kaname is going to visit his Aunt Satomi, who is remodeling an inn she owns and operates. She wants some help cleaning the place for a few days. Two of their school friends, Nishimura and Kitamoto, join Natsume and Kaname on a trip to the inn to work in exchange for room and board. Not long after arriving, Natsume discovers the presence of a yokai that has stolen something important, endangering all their lives.
[This volume includes a bonus story, "Out of Season Blossoms."]
THE LOWDOWN: As I have stated before, I had no idea that I would like the Natsume's Book of Friends manga so much after I read the first volume of the English adaptation a few years ago. This unique manga is the kind of literary fantasy that would fit in at Vertigo, the DC Comics' imprint which focuses on adult-oriented fantasy comics (among other genres).
It would also be at home with juvenile and young adult graphic novels offered by publishers like First Second Books and Scholastic. In fact, if Neil Gaiman was listed as the author of Natsume's Book of Friends, this series would already be a bestseller, be a multiple Eisner Award-winner, and have won at least one Hugo Award. The film or television rights would have been snapped up after the first graphic novel was published.
Instead, Natsume's Book of Friends seems largely unknown outside of manga fans. I wonder what the highest position on the New York Times bestselling manga list is that Natsume's Book of Friends has achieved.
Natsume's Book of Friends Volume 16 is one of the volumes that are perfect for new readers. Neither of the two main stories (each running two chapters) involves the series' internal mythology beyond the fact that Taki and Kaname are reoccurring characters. Vol. 16 is a good example of the wonderful sense of magic and enchantment this series offers, and it proves that this series should be a big hit.
POSSIBLE AUDIENCE: Readers looking for exceptional fantasy comic books will want to read Natsume's Book of Friends, a Shojo Beat title.
Rating: A+ /10
Last Updated: August 31, 2023 - 08:12