Natsume's Book of Friends: Volume 12 review
By Leroy Douresseaux
July 17, 2012 - 17:16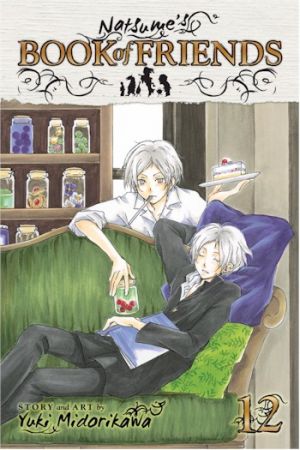 Natsume's Book of Friends Volume 12 cover image is courtesy of Anime Castle Books.
Rated "T" for "Teen"
Troubled high school student Takashi Natsume can see the spirits and demons called "yokai." This ability, however, has been a curse that has set Takashi, who is an orphan, apart from others. He finds a stable home with the Fujiwaras, a kind couple who are distant relatives. He also has a companion in Nyanko Sensei, a guardian yokai. Takashi learns that he has inherited two things from his mysterious grandmother, Reiko Natsume: the Sight and her "Book of Friends," a tome in which Reiko wrote the names of yokai.
As Natsume's Book of Friends, Vol. 12 begins, Takashi meets a kindhearted yokai who has in his possession a letter ruined by age and exposure to the elements. This yokai knows of another yokai with the ability to restore paper, but this mysterious yokai's name is in the Book of Friends. Will this unknown yokai be willing to help the grandson of Reiko Natsume? Next, a female yokai wants to return a mirror given to her by a human woman, so will Takashi help her find the mirror's owner?
Later, Takashi finds himself in a trap sprung by a yokai looking for a gift. Why does a yokai need a gift? The legendary yokai, Lord Omibashira, has returned, and there is a par-tay! in his honor, and Takashi is a welcome-home present. Now, the teen loner must turn to his human acquaintances for help. Can Shuichi Natori, the actor and yokai exorcist, and Kaname Tanuma, a fellow high school student who can sense when yokai are present, help Takashi?
THE LOWDOWN: Initially, I didn't know what to make of the Natsume's Book of Friends manga. It is one of the few manga that would seem to fit in at Vertigo, the DC Comics' imprint which focuses on adult oriented fantasy and crime comics. In fact, Natsume's Book of Friends reminds me of the classic Vertigo series, The Sandman.
Although this is a fantasy series full of mythological creatures, creator Yuki Midorikawa focuses on the characters. The story of the yokai with the weather-beaten note is a tragic story of unrequited love that Midorikawa plays in such a way that you might think the characters are human. The yokai-with-a-mirror story is about keeping promises and about sacrifice that transcends genres. I previously described this series as a celebration of life, but it also celebrates the bonds that hold people to one another.
POSSIBLE AUDIENCE: Fans of Japanese folklore and yokai manga will like Natsume's Book of Friends.
Rating: A /10
Last Updated: August 31, 2023 - 08:12