Natsume's Book of Friends: Volume 18
By Leroy Douresseaux
June 28, 2015 - 20:47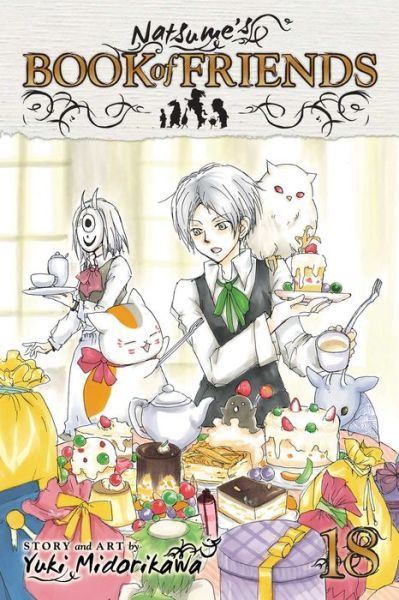 Natsume's Book of Friends Volume 18 cover image
Rated "T" for "Teen"
Takashi Natsume
can see "
yokai
," the spirits and demons that hide from the rest of humanity, but this ability has been a curse, and it had set Natsume apart from others. However, the orphaned teen finds a stable home with Tôko and
Shigeru Fujiwara
, a kindly couple who are distant relatives. He also has a companion in
Nyanko-Sensei
, a guardian yokai. Takashi learns that he has inherited two things from his mysterious grandmother,
Reiko Natsume
: "the Sight" and her "
Book of Friends
," a tome in which Reiko wrote the names of yokai.
Natsume's Book of Friends

, Vol. 18
(Chapters 71 to 73) begins with a yokai named Shiro who nags Natsume to settle an inheritance dispute. Of course, there is more to the story than
Shiro
tells.
Next, misspoken words force Natsume to visit his friend,
Shuichi Natori
, an actor who is also an exorcist, and the visit turns into a new case.
Mr. Hakozaki
, a local exorcist has died. He has left behind a study packed with a lifetime of important yokai research. The problem is that no one can find the room at the Hakozaki estate that is the study. Mr. Hakozaki's relatives are ready to be done with the property and to sell it, but they want all yokai related material and research removed from the house. Now, exorcists from all over the area have packed the house to find the study. Can Natsume find it? Should he find it?
[This volume includes a bonus story, "A Fragment of a Dream."]
THE LOWDOWN:
The
Natsume's Book of Friends
manga is one of my favorite manga and graphic novel series. It is always a joy to read.
Natsume's Book of Friends Volume 18
is also a pleasure to read, but both stories collected here have an air of melancholy about them. The fight between multiple parties to gain what someone leaves behind or will leave behind is central, and creator
Yuki Midorikawa
captures the confusion, rivalry, and selfishness that comes when loved ones act like vultures. I think both stories end up being smart morality tales from which we can all learn something.
POSSIBLE AUDIENCE:
Readers looking for exceptional fantasy comic books will want to discover the secrets of
Natsume's Book of Friends
, a Shojo Beat title.
Rating: A /10
Last Updated: August 31, 2023 - 08:12