Natsume Ono's Tesoro
By Leroy Douresseaux
November 11, 2011 - 06:09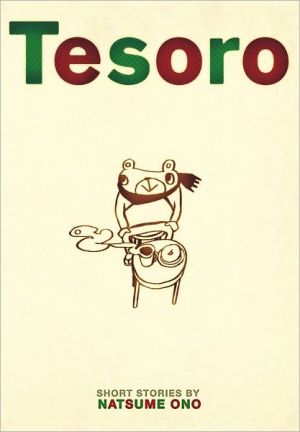 Tesoro cover image is courtesy of barnesandnoble.com.
Rated "T+" for "Older Teen"
Natsume Ono is a manga creator and graphic novelist who made her professional debut with the webcomic, La Quinta Camera (which has since been collected in print). She also created the graphic novel, Ristorante Paradiso, and Gente, a three-volume series related to it. VIZ Media is currently publishing Ono's historical drama, House of Five Leaves, as a series of graphic novels.
The latest Natsume Ono title to reach American readers is Tesoro, a short story collection containing 14 tales and also a gallery of illustrations. The stories are comedies and dramas built around families in one form or another: couples, children, and friends. Ono looks at these relationships from varied points of view. In "Moyashi Couple," an older couple goes out on a date to prove to their neighbors that they are not fighting. "Eva's Memories" is about a girl who never met her father, but sees him in many different men. "Three Short Stories About Bento" is one large story composed of three shorter works in which the bento box plays a crucial role.
"parking!" is about the reunion of Alex, a young man leaving prison after five years and family and friends competing for his attention. "Froom Family" focuses on a boy named Stanley who is always at the mercy of his two older sisters. The second Froom Family story, "Christmas Morning" is about a gift-giving plan that backfires.
THE LOWDOWN: While Tesoro is a collection of Natsume Ono's early work, it is not a gathering of embarrassing amateur comics. The strong characters and potent character drama that has come to define Ono's career is well in evidence here. There is cute family stories right along side complex drama, and occasionally, a story even manages to pull the old heartstrings. Some of these stories should be expanded into longer stories, if not outright graphic novels.
It is almost a guarantee that readers will find several characters in this book with which to fall in love. Ono's simply drawing style is quite evocative, and her characters' eyes are as expressive as anything drawn with painful detail. Tesoro confirms what I've suspected; Natsume Ono was good long before many of us discovered her.
POSSIBLE AUDIENCE: Fans of Natsume Ono will want Tesoro, and new fans may want to start here.
A-
Last Updated: August 31, 2023 - 08:12