Natsume's Book of Friends: Volume 15 manga review
By Leroy Douresseaux
January 25, 2014 - 17:25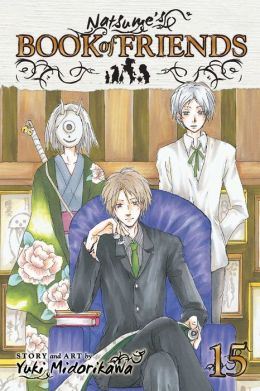 Natsume's Book of Friends Volume 15 cover image is courtesy of barnesandnoble.com.
Rated "T" for "Teen"
Orphaned teen, Takashi Natsume, can see the spirits and demons called "yokai," an ability that has been a curse and that has set him apart from others. Takashi finds a stable home with Tôko and Shigeru Fujiwara, a kind couple who are distant relatives. He also has a companion in Nyanko-Sensei, a guardian yokai. Takashi learns that he has inherited two things from his mysterious grandmother, Reiko Natsume: the Sight and her "Book of Friends," a tome in which Reiko wrote the names of yokai.
Natsume's Book of Friends, Vol. 15 (Chapters 60-63), opens with "Different Eyes," which finds Natsume and Nyanko spending an afternoon at a movie theatre. They are watching a film that stars Natsume's friend, Shuichi Natori, an actor who is also an exorcist. Later, Natsume discovers one of Natori's paper dolls, and on it is a note that leads Natsume to the actor-exorcist's latest case.
The case involves Natori's mentor, Mr. Takuma, a retired exorcist who can no longer see yokai, even the ones that were once his servants. Takuma's daughter, Tsukiko, has summoned Natori to their house, assuming that yokai are trying to kill her and her father. Natsume believes there is much more to this story.
In "A Difficult Path," Natsume tries to help a tiny yokai named Mitsuzara chase a dream that may be beyond the yokai's means to realize. Plus, "Tôko and Shigeru" is a story about the couple that adopted Natsume, the Fujiwaras.
THE LOWDOWN: When I read the first volume of the Natsume's Book of Friends manga a few years ago, I had no idea that I would come to like the series so much. I find this unique manga to be literate fantasy, and as I have said many times, it could fit in at Vertigo, the DC Comics' imprint which focuses on adult-oriented fantasy comics (among other genres).
The stories in Natsume's Book of Friends Volume 15 reveal more about the characters – their personalities, dreams, beliefs, and methods. I see creator Yuki Midorikawa as officially separating Natsume from the other exorcists, through the chapters herein. However, this volume will also force the readers to ask questions and perhaps even be more intrigued by Natsume's Book of Friends.
POSSIBLE AUDIENCE: Fans of Japanese folklore and yokai manga will want to read Natsume's Book of Friends, a Shojo Beat title.
Rating: A+ /10
Last Updated: August 31, 2023 - 08:12