Natsume's Book of Friends: Volume 13 manga review
By Leroy Douresseaux
December 18, 2012 - 16:31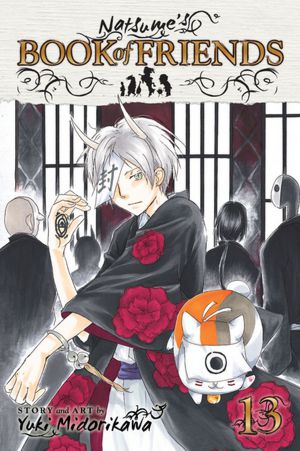 Natsume's Book of Friends Volume 13 cover image is courtesy of barnesandnoble.com.
Rated "T" for "Teen"
Takashi Natsume can see the spirits and demons called "yokai," but this ability has been a curse that has set Takashi, who is an orphan, apart from others. He finds a stable home with the Fujiwaras, a kind couple who are distant relatives. He also has a companion in Nyanko Sensei, a guardian yokai. Takashi learns that he has inherited two things from his mysterious grandmother, Reiko Natsume: the Sight and her "Book of Friends," a tome in which Reiko wrote the names of yokai.
In Natsume's Book of Friends, Vol. 13 (Chapters 52-54), Takashi enters the world of professional exorcism and finds himself deep in exorcist intrigue. He gets a mysterious letter from Matoba, head of a prominent exorcist clan. Takashi also becomes involved in the case of an amateur exorcist, who is trying to become a professional, and his botched exorcism. He gets advice and help from Shuichi Natori, an actor and an exorcist, and helps with an exorcism. Takashi's special talent, however, only makes Matoba even more interested in him.
THE LOWDOWN: As I stated before, I initially didn't know what to make of the Natsume's Book of Friends manga. It seemed liked it belonged at Vertigo, the DC Comics' imprint which focuses on adult-oriented fantasy and crime comics. In fact, Natsume's Book of Friends bore a passing resemblance to such Vertigo series as The Sandman (a classic) and Crossing Midnight.
Natsume's Book of Friends is a fantastic series of magic and mystery. There is intrigue around every corner, and Natsume, a soft character, is perfect for the series' sense of mystery because his open personality latches onto other characters. Creator Yuki Midorikawa is always coming up with some remarkable new scenario. It is as if centuries of folklore and legend are in her idea mill. Of note: this volume also includes two bonus stories.
POSSIBLE AUDIENCE: Fans of Japanese folklore and yokai manga will like the Shojo Beat title, Natsume's Book of Friends.
Rating: A /10
Last Updated: August 31, 2023 - 08:12