Natsume's Book of Friends: Volume 14 manga review
By Leroy Douresseaux
July 5, 2013 - 15:59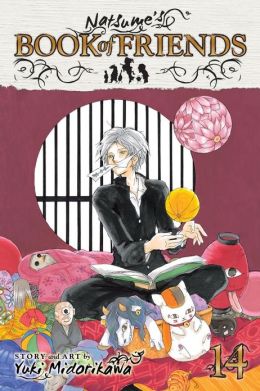 Natsume's Book of Friends Volume 14 cover image is courtesy of barnesandnoble.com.
Rated "T" for "Teen"
He can see the spirits and demons called "yokai." This ability, however, has been a curse that has set orphaned teen, Takashi Natsume, apart from others. He finds a stable home with the Fujiwaras, a kind couple who are distant relatives. He also has a companion in Nyanko Sensei, a guardian yokai. Takashi learns that he has inherited two things from his mysterious grandmother, Reiko Natsume: the Sight and her "Book of Friends," a tome in which Reiko wrote the names of yokai.
Natsume's Book of Friends, Vol. 14 (Chapters 55-59), opens with a story called "Soundless Valley." Natsume realizes that many of his problems with the local yokai stem from his grandmother, Reiko. She went around challenging yokai for their names and then, sealed those names in her "Book of Friends." There is more to Reiko, however, than Natsume realizes.
He begins the task of returning to some of the yokai their names. There is a man-sized urn that wants something else besides a name. If this yokai does not get her way, she plans of taking something precious from Natsume. What is that something-precious: the Fujiwaras; his friend Kaname Tanuma; or even his friend and guardian, Nyanko-sensei?
[This volume has a bonus story, "Special Episode 12: Natsume Observation Log Part 6."]
THE LOWDOWN: Each time I read the Natsume's Book of Friends manga, I become more in love with it. Seriously, I'm ready to commit to this book. Natsume's Book of Friends is so different and plays at being literary fantasy that it could fit in at Vertigo, the DC Comics' imprint which focuses on adult-oriented fantasy comics (among other genres). Natsume's Book of Friends also reminds me of two Vertigo series, The Sandman (a classic) and Crossing Midnight.
With Natsume's Book of Friends Volume 14, creator Yuki Midorikawa begins to present the relationship between Natsume and the yokai as evolving. The focus on the mystery that is Reiko intensifies, and the author offers more flashbacks about Natsume's grandmother. This is already a good series, but plot, setting, and characters grow richer, sparkling before our eyes and beckoning us deeper into the "Book of Friends."
POSSIBLE AUDIENCE: Fans of Japanese folklore, yokai manga, and exceptional fantasy comic books will like the Shojo Beat title, Natsume's Book of Friends.
Rating: A+ /10
Last Updated: August 31, 2023 - 08:12