Dorohedoro: Volume 17 manga review
By Leroy Douresseaux
December 15, 2015 - 19:17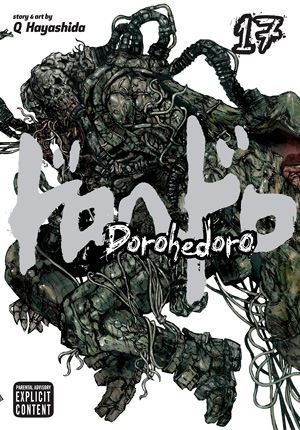 Dorohedoro Volume 17 cover image
Rated "M" for "Mature"
There is a world of strange magic. The Hole is a dismal city neighborhood within it, home both to "
Magic Users
" (Sorcerers) and to people who lack the ability to wield magic. The Sorcerers abduct people to use in their awful black arts experiments.
Nikaido
is a young woman who hunts and kills sorcerers, and her partner is
Caiman
, a mutant with a reptile head and a bad case of amnesia. Chomping down on the heads of sorcerers, Caiman hopes to discover the one that transformed him. However, this couple has drawn the attention of
En
, the head Sorcerer and main crime boss. who wants them dead.
As
Dorohedoro

, Vol. 17
(Chapters 102 to 109) begins,
Chota
,
Shin
,
Ebisu
,
Turkey
, and
Noi
plot to revive their recently-deceased leader, En. They are still trying to locate
Fujita
, whom they sent to spy on the
Cross-Eyes
gang, the group they believe responsible for En's death. They have even captured n Cross-Eyes and are torturing him.
Nikaido,
Asu
, and
Risu
head to the
Central Department Store
where they plan to sell Nakaido's gyoza in the store's chaotic open market. Nakaido's devil progression seems to be speeding up, however, which may hinder or help gyoza sales. Meanwhile, Fujita is witnessing some especially strange goings-on with the Cross-Eyes and their boss.
[This volume includes bonus manga.]

THE LOWDOWN:
The
Dorohedoro
manga is one of the most visually striking comic books that I have ever read. This dark fantasy manga has even attracted the praise of acclaimed North American comics creators such as Bryan Lee O'Malley (
Scott Pilgrim
) and Brandon Graham (
King City
)
Dorohedoro Volume 17
visually strikes me the most, which is saying something. Practically every chapter of
Dorohedoro
contains some graphical revelation. Creator
Q Hayashida
is inventive and imaginative. Still, this volume's sewerage, sludge, and slum wonderland is glorious. Granted that I think the narrative drifts in Vol. 17, the graphical storytelling is so bespattered glorious that it makes the blemishes beautiful.
POSSIBLE AUDIENCE:
Readers who want the darkest dark fantasy and the weirdest weird horror will find it in the IKKI Comix/VIZ Signature title,
Dorohedoro
.
Last Updated: August 31, 2023 - 08:12