Dorohedoro: Volume 10 manga review
By Leroy Douresseaux
August 12, 2013 - 15:50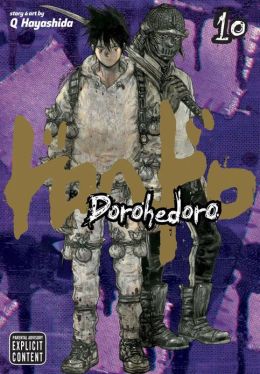 Dorohedoro Volume 10 cover image is courtesy of barnesandnoble.com.
Rated "M" for "Mature"
In a world of strange magic, The Hole is a dismal city neighborhood that is home both to "Magic Users" (Sorcerers) and to people who lack the ability to wield magic. The Sorcerers abduct people to use in their awful black arts experiments. Nikaido is a young woman who hunts and kills sorcerers. Her partner is Caiman, a mutant who has a reptile head and a bad case of amnesia. He chomps down on the heads of sorcerers, hoping to discover the one that transformed him. However, this couple has drawn the attention of En, the head Sorcerer and main crime boss. En wants them dead.
Dorohedoro, Vol. 10 (Chapters 56 to 61) opens with a flashback that reveals part of Professor Kasukabe's past. He worked at the Kasukabe Clinic where he treated victims of magic and also studied the bodies and body parts of sorcerers. Into his life walked Ai Coleman, the young man who wanted to be a sorcerer.
Back in the present, the amnesiac Ebisu begins a trip that will take her to her parents' home, but she has an unwanted companion in Fujita. The cost of not being wanted for Fujita is a weird battle with Oda. However, Ebisu may need Fujita, as she finds herself seeing double in a way that might destroy her. Meanwhile, a recovered and enraged En searches for Nikaido, and he doesn't plan on letting Caiman stand in his way.
THE LOWDOWN: As my grasp of the cast, setting, and plot of the Dorohedoro manga improve, my estimation of the series grows. Series creator, Q Hayashida, is one of the most imaginative artists working in comic books and manga. Her art looks as if the contents of Heavy Metal and Zap Comix were thrown into a blender and the result was a nightmare pesto of crazy black and white comics. Yeah, sometimes, Dorohedoro does suggest the graphical storytelling of Rob't Williams and Moebius having a knife fight in some alley in Pictopia.
Beyond this manga's look is a winning cast and a line of intriguing subplots that move through the narrative like a hurricane. Dorohedoro is different, but most of all, it is a reward for the adventurous reader who is looking for the rabbit hole to a comic book wonderland.
POSSIBLE AUDIENCE: Readers who want the darkest dark fantasy and the weirdest weird horror will find it in the IKKI Comix/VIZ Signature title, Dorohedoro.
Rating: A /10
Last Updated: August 31, 2023 - 08:12