Dorohedoro: Volume 6 Manga Review
By Leroy Douresseaux
April 15, 2012 - 14:18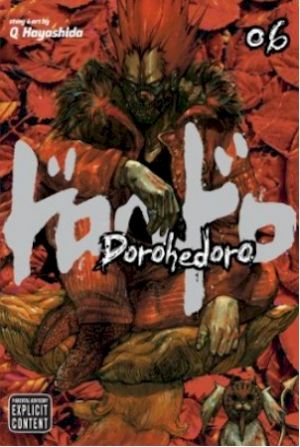 Dorohedoro Volume 6 cover image is courtesy of Anime Castle Books.
Rated "M" for "Mature"
The Hole is a dismal city neighborhood where people who cannot use magic live. It is the place where Sorcerers (or "Magic Users") abduct people to use in their awful black arts experiments. Nikaido hunts and kills sorcerers. Her partner is Caiman, a male mutant with a reptile head and a bad case of amnesia. Caiman chomps down on the head of each sorcerer the duo finds, hoping to discover the one that transformed him, but this couple has drawn the attention of En, the head Sorcerer, who wants them dead.
Dorohedoro, Vol. 6 begins as "Blue Night," the Sorcerers' festival, ends. Nikaido is now a captive of En, who wants to use her powers, which apparently involve some kind of time control. In the meantime, Caiman continues his quest to discover his identity and gets unexpected help from meat pie salesmen. Once he discovers Nikaido's predicament, however, Caiman heads for En's heavily guarded fortress of a mansion. But does he know that he is coming full circle?
THE LOWDOWN: It has been more than a year since I last read the Dorohedoro manga. The series still has plenty of graphic violence, but Dorohedoro is just graphic, simply because of the excess and splendor of the visuals. The art of creator Q Hayashida is kind of related to Moebius' comics and Jamie Hewlett's Tank Girl comics, while the narrative is like something from Heavy Metal magazine. This volume is a graphics gumbo of uncanny landscapes, kooky mushrooms, bizarre tattoos, a peculiar rookery of flying devils, and funky meat pies. Dorohedoro is so visually striking that every comic book reader should try it at least once. I'll keep trying it.
POSSIBLE AUDIENCE: Fans who like science fiction, dark fantasy, and horror in one comic book can find it in Dorohedoro.
B+
Last Updated: August 31, 2023 - 08:12