Dorohedoro: Volume 8 manga review
By Leroy Douresseaux
February 19, 2013 - 16:22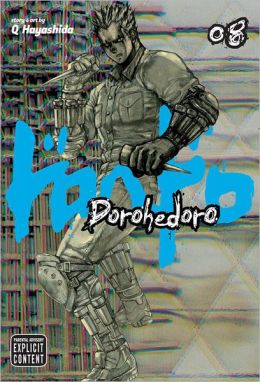 Dorohedoro Volume 8 cover image is courtesy of barnesandnoble.com.
Rated "M" for "Mature"
In a world of strange magic, The Hole is a dismal city neighborhood. It is the home of both people who do not have the ability to wield magic and of Sorcerers (or "Magic Users") who abduct people to use in their awful black arts experiments.
A young woman named Nikaido hunts and kills sorcerers. Her partner is Caiman, a male mutant with a reptile head and a bad case of amnesia. Caiman chomps down on the head of each sorcerer the duo finds, hoping to discover the one that transformed him. However, this couple has drawn the attention of En, the head Sorcerer and main crime boss. En wants them dead.
Professor Kasukabe was visiting his estranged wife's cottage. En's killers, Shin and Noi, followed him. They found themselves in serious trouble with the home's new occupants. As Dorohedoro, Vol. 8 (Chapter 44 to 49) begins, Shin battles one of those tenants, a fight Shin's opponent believes should be to the death. In addition to the fight, Shin must find his partner, Noi, who has found herself in the clutches of even stranger foes.
Our heroes, Nikaido and Caiman, enter the underground world of Mastema, where they meet Natsuki and her partner, Maki, sellers of bad black powder. Also, En feeds his minions mushrooms to help them enter "the dream world," with unexpected results.
THE LOWDOWN: With its striking graphics and unsettling visual static images, the Dorohedoro manga is an attention-grabber. The earlier volumes of the series reminded me of some of the work of the late French comics artist and creator, Moebius, and also of the Jamie Hewlett-drawn Tank Girl comics. Indeed, the works that influenced Dorohedoro creator Q Hayashida may certainly have affected her work on the series, at least early on.
By the time we arrive at the chapters that comprise Dorohedoro Volume 8, Q Hayashida has largely shaken off the flourishes of other artists' work. The book looks like nothing else, and it is that uniqueness: in characters, plots, and graphic elements, that certainly yields matchless manga. Where once this material was challenging, however, Dorohedoro is now more invigorating, because behind what is different is what is basically good about comics. The off-beat in the comics medium becomes storytelling that captures the imagination, which Dorohedoro certainly does.
POSSIBLE AUDIENCE: Readers who want the darkest dark fantasy and the weirdest weird horror will find it in one crazy comic book, the Ikki Comix/VIZ Signature title, Dorohedoro.
Rating: A /10
Last Updated: August 31, 2023 - 08:12