Dorohedoro: Volume 3
By Leroy Douresseaux
January 16, 2011 - 08:33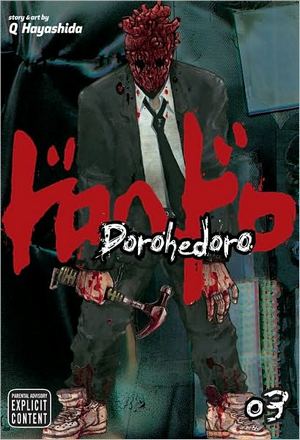 Dorohedoro Volume 3 cover image is courtesy of barnesandnoble.com.
Rated "M" for "Mature"
Dorohedoro is a dark fantasy, horror manga set in The Hole, a dismal city neighborhood where people who cannot use magic live. It is the place where Sorcerers (or "Magic Users") abduct people to use in their awful black arts experiments. Nikaido hunts and kills sorcerers with her partner Caiman, a male mutant with a reptile head and a bad case of amnesia. Caiman chomps down on the head of each sorcerer they find, hoping to discover the one that transformed him, but the duo has drawn the attention of En, the head Sorcerer, who wants them dead.
As Dorohedoro, Vol. 3 begins, En searches for Risu, someone he hopes will be a new partner, someone possessing unique magic powers. En's crew, however, has to battle people hocked on "black powder," a magic-enhancing drug used by weaker Sorcerers. Meanwhile, Nikaido and Caiman seek out Dr. Kasukabe, a mysterious doctor who specializes in the anatomy of Sorcerers. Kasukabe also has portal that will lead the heroes into the Sorcerer's dimension, where, perhaps, the secrets of Caiman's lost past will be revealed.
THE LOWDOWN: No doubt you, dear reader, have heard the terms "graphic sex" and "graphic violence." Well, Dorohedoro is just graphic; its art is a glorious assault on your mind's eye. The concept has a lot of neat ideas, and the story follows an over arching mythology. However, it is the vivid art with its pungent graphic style that is the star. The strangely designed characters and peculiar-looking backgrounds make for striking graphical storytelling. It's like Tank Girl meets Moebius, and Q Hayashida has created a manga that looks so unusual that it can't be ignored.
POSSIBLE AUDIENCE: Fans who like science fiction, dark fantasy, and horror in one comic book can find it in Dorohedoro.
A-
Last Updated: February 5, 2023 - 09:06