Dorohedoro: Volume 9 manga review
By Leroy Douresseaux
April 18, 2013 - 08:12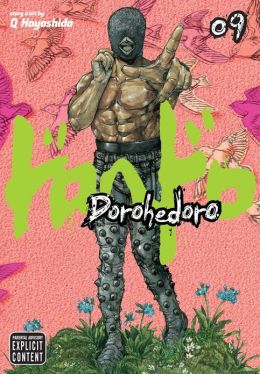 Dorohedoro Volume 9 cover image is courtesy of barnesandnoble.com.
Rated "M" for "Mature"
The Hole is a dismal city neighborhood in a world of strange magic. It is home both to Sorcerers (or "Magic Users") and to people who lack the ability to wield magic. The Sorcerers abduct people to use in their awful black arts experiments. Nikaido is a young woman who hunts and kills sorcerers. Her partner is Caiman, a mutant who has a reptile head and a bad case of amnesia. He chomps down on the heads of sorcerers, hoping to discover the one that transformed him. However, this couple has drawn the attention of En, the head Sorcerer and main crime boss. En wants them dead.
As Dorohedoro, Vol. 9 (Chapters 50 to 55) begins, Nikaido and Caiman, with the tagalong named Natsuki, continue their journey to Berith by way of Zagan. When they approach the "South Zagan School of Sorcery," Caiman experiences a surge of headaches and perhaps the beginnings of memories. Did Caiman attend this school?
The Cross-Eyes gang continues its rampage, but those actions have long-range consequences. Chota's masquerade is about to be revealed, just as he has discovered a special diary. Meanwhile, we travel deep into Nikaido's childhood and the story of her dear friend, Yakumo.
THE LOWDOWN: It took me a few volumes to understand the Dorohedoro manga. Intellectually, I respected the creativity of Q Hayashida work in this manga, but it took still a few more volumes for my heart to find a place for Dorohedoro and for me to really like it. Now, I love it and look forward to each volume.
Dorohedoro Volume 9 brings the murky plotlines and subplots closer together. The ways in which the characters are connected is also clearer. With its striking graphics and unsettling visual static images, Dorohedoro gives it conflicts and character relationships an edgy feel throughout. It is now an even more invigorating read. This crazy manga and its world is the place for readers to be.
POSSIBLE AUDIENCE: Readers who want the darkest dark fantasy and the weirdest weird horror will find it in the Ikki Comix/VIZ Signature title, Dorohedoro.
Rating: A /10
Last Updated: August 31, 2023 - 08:12