Dorohedoro: Volume 2
By Leroy Douresseaux
August 14, 2010 - 20:44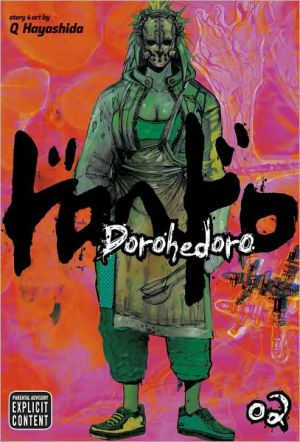 Dorohedoro Volume 2 cover image is courtesy of barnesandnoble.com.
Rated "M" for "Mature"
The Hole is a dismal city neighborhood where people who cannot use magic live. There, the Sorcerers (or "Magic Users") abduct people to use in their awful black arts experiments. Nikaido hunts and kills sorcerers. Her partner is Caiman, a male mutant with a reptile head and a bad case of amnesia. He chomps down on the head of each sorcerer hoping to find the one that transformed him. They've drawn the attention of En, the head Sorcerer, who wants them dead.
Dorohedoro, Vol. 2 opens on "Night of the Living Dead," the one night of the year when hordes of the dead rise and roam the streets of the Hole, hungry for live flesh. Caiman and Nikaido sign up for the local zombie-killing contest hoping to win the money to purchase a prized small kitchen appliance. Meanwhile, En sends two of his cleaners, Noi and Shin, to dispatch Caiman and Nikaido.
THE LOWDOWN: Like Masamune Shirow on mescaline – perhaps that is not quite the way to describe Q Hayashida's work on her manga Dorohedoro. Still, Dorohedoro sort of resembles some DIY, punk rock comix version of Shirow's manga. This seinen manga (comics for adult men) is a blast to read with its graphical style that is as alluring as it is degenerate. Dorohedoro is the good stuff.
POSSIBLE AUDIENCE: Fans who always wanted a science fiction, dark fantasy, and horror comic book now have it in Dorohedoro.
A
Last Updated: August 31, 2023 - 08:12