Dogs: Bullets & Carnage: Volume 1
By Leroy Douresseaux
August 5, 2009 - 14:43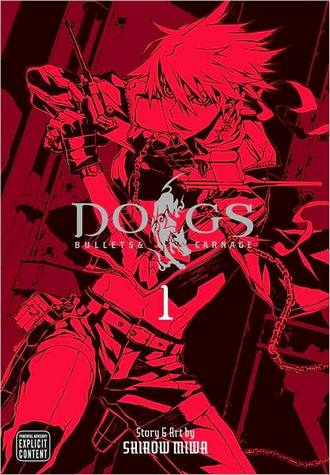 Dogs Bullets & Carnage Volume 1 cover image is courtesy of barnesandnoble.com.
Rated "M" for "Mature"
Mihai aka "Weepy Old Killer," is a former hit man, haunted both by the ghosts of his victims and the death of his lover. Badou Nails aka "Gun Smoker" is an information broker and hired gun with a reckless nature and a goofball persona that belie his skill. Naota aka "Blade Maiden" is an amazingly skilled swordswoman who saw her mother and father cut down before her very eyes. Heine Rammsteiner aka "Stray Dog" is the mystery man who wears a metal collar bolted to his neck and who has a talent for violence. These dogs are troubled by the ghosts and secrets of their past. Driven by their desire for the truth, these dogs still have to survive their very dangerous present.
As Dogs: Bullets & Carnage, Vol. 1 opens, Badou and Heine enter the dangerous Underground beneath the city, on the trail of a group of "Lost Children," rare genetic experiments from the past, but the mafia also wants these children for their resale value on the black market. Meanwhile, Naota also travels to the Underground in search of a killer who wields a black sword like hers. Finally, Heine faces a ghost from his past – a fellow "Dog" named Giovanni, who has come to bring "Stray Dog" Heine home.
THE LOWDOWN: A seinen manga (comics for adult men) by Shirow Miwa, Dogs: Bullets & Carnage follows the Dogs: Prelude stand-alone volume VIZ Media published a few months ago. Prelude introduced the main characters and supporting cast of Dogs: Bullets & Carnage. Like Prelude, Bullets & Carnage is a stylishly violent crime thriller in the vein of Hong Kong action films, such as the ones directed by John Woo.
Bullets & Carnage is filled with panels meant to depict (as much as still images can) highly choreographed action scenes and Mexican standoffs. A reader could look at the art and easily figure out which panels are meant to capture the look of the slow-motion or "bullet time" sequences of films like The Matrix. The storytelling is a little better in this book than it was in Prelude, but the depiction of violence via stylish graphics is the real story here.
POSSIBLE AUDIENCE: Fans of the manga Black Lagoon may like Dogs: Bullets & Carnage.
B+
Last Updated: August 31, 2023 - 08:12