Dogs: Bullets & Carnage: Volume 8 manga review
By Leroy Douresseaux
November 8, 2013 - 17:41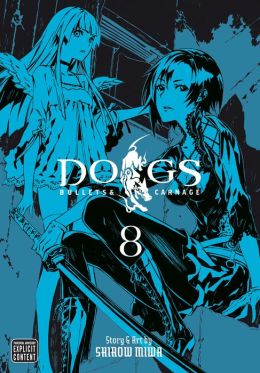 Dogs: Bullets & Carnage Volume 8 cover image is courtesy of barnesandnoble.com.
Rated "M" for "Mature"
They are former hit man Mihai Mihailov; gun-for-hire and information broker, Badou Nails; the swordswoman Naota Fuyumine; and the mystery man wearing a metal collar bolted to his neck, Heine Rammsteiner. They are "dogs" driven to discover the truth about the pasts that haunt them.
As Dogs: Bullets & Carnage, Vol. 8 (Chapters 68 to 76) opens, Heine takes on Naota's brother, Magato. Then, Heine fights Naoto, who is under the spell of their "mother," who is also a young woman named Lily. Naoto learns that her black sword is made to punish people like Heine, and her sword gets a name (Inugami).
Also, Heine remembers his origin and the first time that he saw "outside." Plus, Murato Fuyumine enters the game. Granny Liza learns the awful truth behind the kidnappings of the Lost Children, information she gets from Ernst Rammsteiner.
THE LOWDOWN: As usual, the Dogs: Bullets & Carnage manga is filled with stylish violence, but Dogs: Bullets & Carnage Volume 8 is also filled with revelations. Creator Shirow Miwa, who has a deft touch at figure drawing that depicts athletic bodies – both male and female, goes blunt with a torrent of secrets and lies, origins, surprises, etc. Let's call Vol. 8 a book of revelations. Strangely, I think all the revealing makes this volume not as strong as the previous.
Still, this volume is a payoff for regular Dog lovers. I don't think this is a good jump-on point for new readers. More characters that are related to serious regulars appear, and it is good to have a grasp on the regulars in order to understand the context. Fans will want to follow these dogs to the next battle.
POSSIBLE AUDIENCE: Fans of violent battle manga will want to try the VIZ Signature title, Dogs: Bullets & Carnage.
Rating: B /10
Last Updated: August 31, 2023 - 08:12