Dogs: Bullets & Carnage Volume 5
By Leroy Douresseaux
March 7, 2011 - 13:07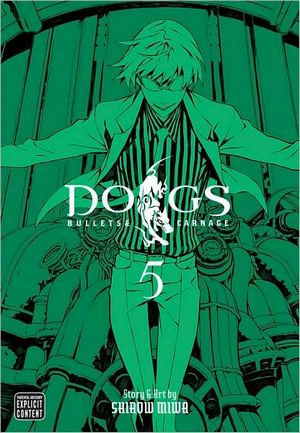 Dogs: Bullets & Carnage Volume 5 cover image is courtesy of barnesandnoble.com.
Rated "M" for "Mature"
These "Dogs" are former hit man Mihai Mihailov; Gun-for-hire and information broker, Badou Nails; the swordswoman Naota Fuyumine; and the mystery man wearing a metal collar bolted to his neck, Heine Rammsteiner. Haunted by their pasts and driven to discover the truth, these stray dogs live in a dangerous present.
As Dogs: Bullets & Carnage, Vol. 5 begins, Badou and Mihai battle the murderous symphony conductor, Lichter H. Beltheim, the man who murdered Badou's brother and cost Badou an eye. Beltheim proves to be a difficult man to kill, even for two highly-skilled killers as Badou and Mihai. Meanwhile, things are even worse in the underground beneath the city known as the Below. Giovanni, another stray dog, launches his assault on the Below, but who is really behind this plot to force the Above to recognize the Below? But the big fight pits Giovanni against Heine.
THE LOWDOWN: This fifth volume of the stylishly violent Dogs: Bullets & Carnage is so wild. Trying to decipher the chaotically composed art gave me the idea that creator Shirow Miwa and his staff were extremely excited about getting these chapters down on paper. At times, the art is abstract or looks like something Ben Templesmith drew while on crank. Still, the guns, knives, and swords shoot 'em up attitude of Dogs makes it a must read for fans of action violence-filled seinen manga.
POSSIBLE AUDIENCE: Fans of violent action manga may like Dogs: Bullets & Carnage.
B+
Last Updated: August 31, 2023 - 08:12