Dogs: Bullets & Carnage: Volume 9 manga review
By Leroy Douresseaux
December 16, 2014 - 08:44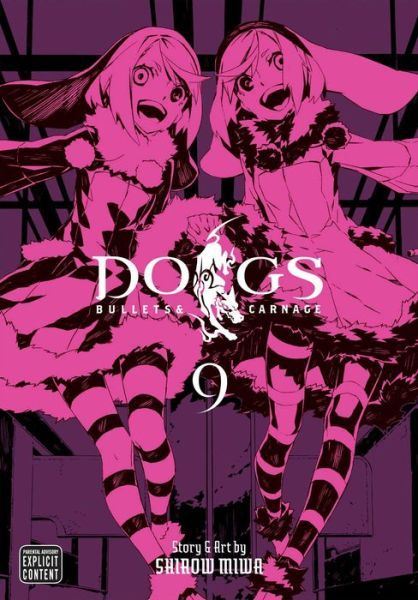 Dogs: Bullets & Carnage Volume 9 cover image is courtesy of barnesandnoble.com.
Follow me on
Twitter
.
Rated "M" for "Mature"
One is a former hit man,
Mihai Mihailov
. One is a gun-for-hire and information broker,
Badou Nails
. One is a swords-woman,
Naota Fuyumine
. One is a mystery man who wears a metal collar bolted to his neck,
Heine Rammsteiner
. United, they are all "dogs," and they are driven to discover the truth about the pasts that haunt them.
As
Dogs: Bullets & Carnage

, Vol. 9
(Chapters 77 to 85) opens, Naoto and her "brother,"
Magato
, continue their sword dance. Interspersed between swipes and swings of blades, we learn of Magato's past and of the project that endangered his life.
Meanwhile, the
Special Defense Force
attacks the
Below
, pitting dog soldiers (that look like werewolves) against other monster-type soldiers. Also, disparate forces come together to plot against the our protagonist dogs.
THE LOWDOWN:
As is the norm, the latest volume of the
Dogs: Bullets & Carnage
manga is filled with stylish violence.
Dogs: Bullets & Carnage Volume 9
offers a few more revelations and a bit of back story. As always, creator
Shirow Miwa
has a deft touch at figure drawing that depicts athletic bodies – both male and female – in motion. Hand-to-hand combat looks so good in this series.
Still, Vol. 9 feels like its going through the motions, as if the chapters herein are a waiting period for something big to happen in a later volume. I'm intrigued, but like Vol. 8, Vol. 9 is not one of the better entries in this series.
POSSIBLE AUDIENCE:
Fans of violent action manga will want to try the VIZ Signature title,
Dogs: Bullets & Carnage
.
Rating: B /10
Last Updated: August 31, 2023 - 08:12