Inubaka Crazy for Dogs: Volume 14
By Leroy Douresseaux
October 17, 2009 - 13:07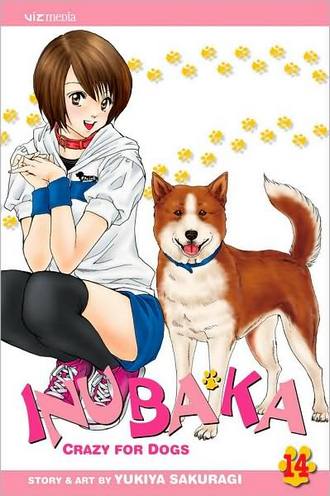 Inubaka Crazy for Dogs Volume 14 cover image is courtesy of barnesandnoble.com.
Rated "T+" for "Older Teen"
Suguri Miyauchi is an 18-year-old who has an almost supernatural connection with dogs. She and her loyal mutt, Lupin, leave the lonely countryside and head to the city to start a new life. Suguri's first job is at a branch store of the "Woofles" pet shop chain. She lacks retail experience, but she makes up for it with her easy rapport with quirky dogs and their even stranger owners.
As Inubaka: Crazy for Dogs, Vol. 14 opens, Suguri and friends are finishing their short vacation at a cottage where pet parents can stay with their pets. Meanwhile, Suguri's boss, Teppei Iida, finally gets an opportunity to mate his female black Labrador, Noa, for puppies. Suguri is a little jealous because she wants Lupin to have puppies of his own, but Teppei vehemently discourages her against breeding Lupin – because he's a mutt!
THE LOWDOWN: It is not unusual to find a manga that read like a manifesto for its subject matter, examples include Oishinbo (food culture) and Yakitate!! Japan (bread making). I have previously read three volumes of Inubaka: Crazy for Dogs. Vol. 14 was the first that I found insistent that humans and dogs currently don't live in harmony. This is because of human ignorance, selfishness, and thoughtless regarding dog breeding, pet ownership, and knowledge of dog breeds – according to the narrative. Not being a dog person or pet owner, it still all made sense to me.
While Inubaka is a dog lover's manga, this is also a quality drama with a typically spunky manga heroine. Manga-ka Yukiya Sakuragi can make practically any reader buy into her characters and scenarios. Her art, with its photorealistic renderings of various dog breeds, creates the perfect pretty pictures for this quirky series about dog lovers and their lovable dogs.
POSSIBLE AUDIENCE: Readers who want that doggie in the window will want Inubaka: Crazy for Dogs.
B+
Last Updated: August 31, 2023 - 08:12