Dogs: Bullets and Carnage Volume 7 manga review
By Leroy Douresseaux
December 16, 2012 - 15:51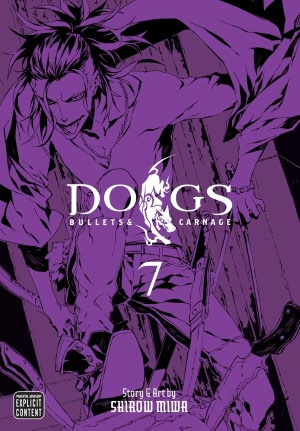 Dogs Bullets and Carnage Volume 7 cover image is courtesy of barnesandnoble.com.
Rated "M" for "Mature"
They are haunted by their pasts: former hit man Mihai Mihailov; gun-for-hire and information broker, Badou Nails; the swordswoman Naota Fuyumine; and the mystery man wearing a metal collar bolted to his neck, Heine Rammsteiner. Now, they are driven to discover the truth, these stray dogs that live in a dangerous present.
Dogs: Bullets & Carnage, Vol. 7 opens with "Nagato & Magato." It's blade on blade, and Magato insists this battle is personal. Why? It's all in the last name. Heine steps in and finds that this fight is his own, also. The fourth player who enters this game seems to have the most access to revelations. What does Campanella Fruhling, a woman with a sword like Naota's, want?
THE LOWDOWN: The Dogs: Bullets & Carnage manga is practically always filled with stylish violence, and so is this seventh volume. Creator Shirow Miwa has a deft touch at figure drawing that depicts athletic bodies – both male and female. Some of the characters have figures that remind me of the lithe, dancer's body of the actor Danny Kaye. This occurred to me recently when I was watching the film, White Christmas, in which Kaye costars. The combatants fight each other with such grace, like ballet or modern dancers. Yeah, they're trying to slice and dice each other, but it sure looks like art. Oh, well.
POSSIBLE AUDIENCE: Fans of violent battle manga will want to try the VIZ Signature title, Dogs: Bullets & Carnage.
Rating: B+ /10
Last Updated: August 31, 2023 - 08:12