Bokurano: Ours Volume 5
By Leroy Douresseaux
January 6, 2012 - 11:45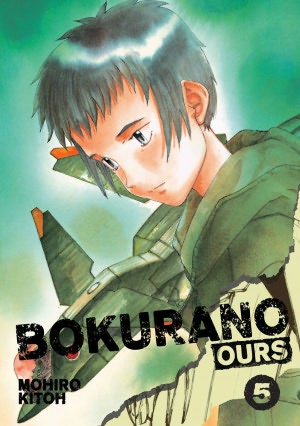 Bokurano Ours Volume 5 cover image is courtesy of barnesandnoble.com.
Rated "T+" for "Older Teen"
Giant robots are invading Earth. The key to mankind's survival is a towering mecha known as Zearth. However, this iron giant draws its strength from 15 teenagers, none of them yet in high school. By giving Zearth their power, however, these teens are sacrificing their lives.
Bokurano: Ours, Vol. 5 opens on the final chapter of Kunihiko Moji's story and more than his captaincy of Zearth is at stake. Moji is determined to save a friend's life with the gift of life. The next captain is Maki Ano, who knows that the captain dies after every battle. There is, however, something else on her mind – the impending birth of a baby brother. Can she stay alive long enough to see him just once? Also, the shocking truth about the enemy is revealed.
THE LOWDOWN: Japanese comic book creators seem unusually adept at creating comic books that are genuinely for children that aren't entirely juvenilia and escapist fantasies. An example of this is Bokurano: Ours, a drama that is dressed in the rags of mecha (giant robot) manga.
This is essentially an anti-war narrative about the young dying in war. These teens, none yet in high school, live just as complex lives and have just as complicated inner lives as adults. However, the lives of the youth are sacrificed as if their lives were not as important and more disposable. Plus, the stunning revelation of the enemy makes this an even more imaginative and thoughtful manga.
POSSIBLE AUDIENCE: Readers who like science fiction character drama will like Bokurano: Ours.
A-
Last Updated: August 31, 2023 - 08:12