Bokurano: Ours Volume 11 Advanced manga review
By Leroy Douresseaux
September 13, 2014 - 09:18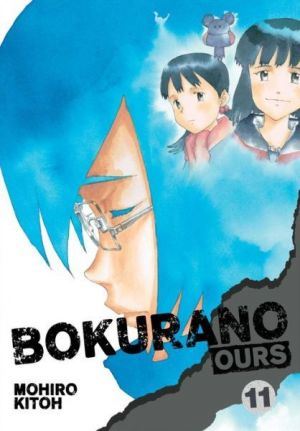 Bokurano: Ours Volume 11 cover image is courtesy of barnesandnoble.com.
Follow me on
Twitter
.
Rated "M" for "Mature"
When giant robots start invading Earth, the key to mankind's survival becomes a towering mecha known as
Zearth
. However, this iron giant draws its strength from 15 teenagers, none of them yet in high school. By giving Zearth their power, these teens are sacrificing their lives. Each one that assumes the captain's chair for battle dies after that battle.
As
Bokurano: Ours

, Vol. 11
(Chapters 60 to 65) begins, Zearth is down to its last pilot, a seventh grade boy named
Jun Ushiro
. Now, it is time for the final battle that will decide the fate of two worlds, but when the rival pilot makes a surprising move, genocide becomes the answer. How will Jun save the day, even if he cannot save his own life?
THE LOWDOWN:
The
Bokurano: Ours
manga comes to a startling end.
Bokurano: Ours Volume 11
answers questions, and raises a few more. It has a melancholy start, but the intensity arrives like sucker punch when Ushiro is forced to make the most horrifying decision about finishing his fight.
At the end,
Mohiro Kitoh
is more open about his manga being not only anti-war, but also being a quite assault on child soldiers and the militarization of childhood. With its themes of family dysfunction, sibling conflict, teen love, and death,
Bokurano: Ours
proves to be escapist fantasy that does not want to entirely escape.
POSSIBLE AUDIENCE:
Readers looking for science fiction Young Adult drama will find that in the VIZ Signature-IKKI Comix title,
Bokurano: Ours
.
Last Updated: August 31, 2023 - 08:12