Bokurano: Ours Volume 9 manga review
By Leroy Douresseaux
November 19, 2013 - 12:54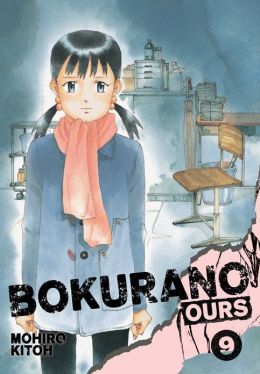 Bokurano Ours Volume 9 cover image is courtesy of barnesandnoble.com.
Rated "T+" for "Older Teen"
After giant robots start invading Earth, the key to mankind's survival becomes a towering mecha known as Zearth. However, this iron giant draws its strength from 15 teenagers, none of them yet in high school. By giving Zearth their power, these teens are sacrificing their lives. Each one that assumes the captain's chair for battle dies afterwards.
As Bokurano: Ours, Vol. 9 (Chapters 48 to 53) begins, the program needs new pilots. Although she is only in fourth grade, Kana Ushiro volunteers to pilot Zearth, but her complicated family life, of course, complicates matters. Parents of Zearth pilots who previously died after battle are being told the truth about what happened to their children. Now, Kana has to help her father understand and accept her choices.
Also, Kana's older brother, Jun Ushiro, who bullies and hits her, is not really her biological sibling. Jun's mother, Miho Sato, has been found, but she now goes by the name "Misumi Tanaka." Tanaka wants to be part of Zearth's next mission, in which Kana will be the pilot.
THE LOWDOWN: As I wrote previously, the Bokurano: Ours manga is a Young Adult manga that is not juvenilia or escapist fantasy. Creator Mohiro Kitoh fashions a poignant drama that focuses on character relationships and conflicts with a keen eye on motivation.
Bokurano: Ours Volume 9 deals with themes that delve into how families are connected and what it means to be related, plus the usual scenes that play out familial obligation. Death is not just a theme this time around; it hangs over the narrative, making this one of the most poignant and best volumes of Bokurano: Ours.
POSSIBLE AUDIENCE: Readers looking for science fiction Young Adult drama will find that in the VIZ Signature-IKKI Comix title, Bokurano: Ours.
Rating: A- /10
Last Updated: August 31, 2023 - 08:12