Bokurano: Ours Volume 8 manga review
By Leroy Douresseaux
April 17, 2013 - 11:26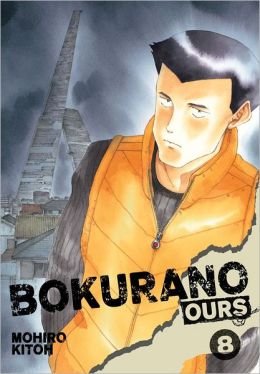 Bokurano Ours Volume 8 cover image is courtesy of barnesandnoble.com.
Rated "T+" for "Older Teen"
Giant robots are invading Earth, and the key to mankind's survival is a towering mecha known as Zearth. This iron giant draws its strength from 15 teenagers, none of them yet in high school. By giving Zearth their power, however, these teens are sacrificing their lives. Each one who assumes the captain's chair for battle dies afterwards.
Bokurano: Ours, Vol. 8 (Chapters 42 to 47) begins with the final chapter in the story of Aiko Tokosumi, who is currently in the captain's chair. Her father, Akira Tokosumi, is a newscaster, and he is broadcasting her battle live on television. Now, Aiko is determined to give the war a human face.
The rest of the book is devoted to Kanji Yoshikawa. As he becomes captain of Zearth, he also tries to resolve the tension between fellow pilot candidate, Jun Ushiro, and his younger sister, Kana, whom Jun bullies. When a new attacker takes the battle across the sea and employs a new strategy, Kanji has to focus all his will and energy on keeping the Earth from being destroyed. "Operation Yoshishi" will help Kanji fight the attacker, which is being called "Javelin." This time, however, Kanji may not be the only one making the ultimate sacrifice.
THE LOWDOWN: The Bokurano: Ours manga is a Young Adult manga that does not run on a tar sands-derived junk fuel of juvenilia and escapist fantasy. What creator Mohiro Kitoh offers in Bokurano is a poignant drama that focuses on character relationships. If you think that no one is truly forced to make a decision, then, this manga argues that obligation certainly weighs on each character regarding options and choices available to that character. Responsibility and duty (or the perception of) shapes and changes the lives of the characters.
Bokurano: Ours Volume 8 offers "Operation Yoshishi." As the situation unfolds, readers can see how that evolves the characters' decision making. It is fascinating to see where Kitoh takes the characters. Bokurano, for all its teen melodrama and teen angst, is not always in top form. It is usually a good series, but sometimes Bokurano seems like one of the best graphic novel series available to readers.
POSSIBLE AUDIENCE: Readers looking for science fiction teen drama will find that in the VIZ Signature-IKKI Comix title, Bokurano: Ours.
Rating: A- /10
Last Updated: August 31, 2023 - 08:12